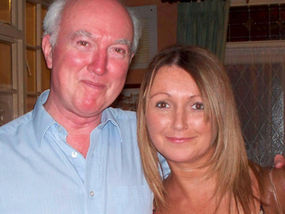 Peter Lawrence says families need more support to deal with a missing relative's practical affairs
The father of Claudia Lawrence is to help present the findings of an inquiry into the rights of families of missing people at Downing Street later.
Solicitor Peter Lawrence's 35-year-old daughter was last seen in York on 18 March 2009. Her disappearance is being treated by police as murder.
Mr Lawrence gave evidence at the parliamentary inquiry in June.
He and Rachel Elias, sister of missing Manic Street Preachers guitarist Richey Edwards, will hand in the findings.
They will be joined by Nicki Durbin, the mother of missing 19-year-old Luke Durbin, who was last seen in Ipswich in May 2006 after a night out with friends.
New law
Supporters of the charity Missing People and the chair of the All Party Parliamentary Group (APPG) on Runaway and Missing Children and Adults, Ann Coffey MP, will also be at Downing Street on Monday.
The event also coincides with an expected announcement that the Justice Select Committee is to launch an official inquiry into Presumption of Death legislation - the focus of one of the four sessions of last month's Parliamentary Inquiry.
Mr Lawrence hopes the inquiry will result in a new law allowing families to appoint a trustee to deal with the affairs of missing people 90 days after they disappear.
He said: "I am pleased that the prime minister is taking an interest in the 'missing rights' issue and hope that this will ensure something will soon be done to help those families who find themselves in difficulties."
Ms Coffey said: "The needs of this group of victims must be met and the government must listen to the voices of the families and professionals reflected in the recommendations within this report.
"None are particularly costly and yet, if implemented, would make all the difference in the world to the families."