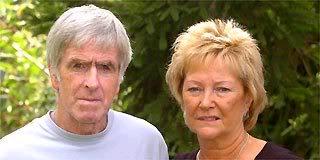 Grandmother Susan Healy (pictured with grandfather Brian)
THE family of missing Madeleine McCann have had to dismiss a report that the missing youngster may have been found in India.
Gran Susan Healy, the mum of Liverpool-born Kate McCann, told the ECHO: "Kate has been in touch and told me it has been discounted."
But Mrs Healy, who lives in Allerton, added: "As Kate said, the good thing about this reported possible sighting is that there is still an awareness among the public about Madeleine.
"And while this may not have come to anything, we are thankful that people are still looking – hopefully, next time, the result will be different."
Local police were reported to be investigating after a British woman spotted a girl who appeared to resemble Madeleine in a market in the city of Leh in northern India.
A French woman and a Belgian man who were with the girl insisted they were her biological parents but police took their passports to check, the Chandigarh Tribune newspaper reported.
Madeleine was nearly four when she went missing from her family's holiday apartment in Praia da Luz in the Algarve on May 3 2007.
Portuguese detectives, helped by officers from Leicestershire Police, carried out a massive investigation into her disappearance.
But the official inquiry was formally shelved in July 2008 and since then no police force has been actively looking for the missing child, who would now be eight.
Scotland Yard launched a review of the original investigation in May after a request from Home Secretary Theresa May, supported by Prime Minister David Cameron.
Hundreds of possible sightings of the little girl around the world have been reported since she went missing, but so far they have all come to nothing.