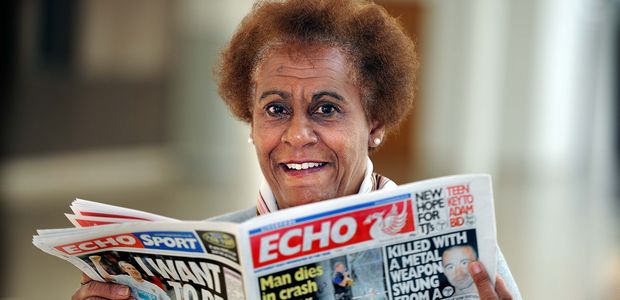 Liverpool Echo headline competition winner Sylvia French

THE ECHO'S search for a dream headline culminated in the front page everyone would like to see.

Sylvia French, from Rosemary Close, Edge Hill, beat off dozens of hopefuls with her succinct but emotive headline which simply read: "Maddie Alive and Safe".

To celebrate the ECHO's Freedom of the City award and 200 years of newspaper publishing in Liverpool we threw down the gauntlet to readers to see if they could come up with their own headline.

All we asked is that they keep it clean and legal.

Readers responded in droves. Favourite subjects included Maddie McCann, Ken Dodd's knighthood campaign, The Beatles and the city's two football clubs, particularly hopes of a big-money Everton buy out.

Many readers sent in political headlines, with the recession, fuel prices, Afghanistan and world peace all popular themes.

Then there were the humorous ones and the plain bizarre.

But it was Sylvia's concise headline that shone out above the rest netting her a top prize.

Sylvia is invited, along with three guests, to the ECHO's official Freedom of the City ceremony on July 5.

She also wins a bottle of champagne and a framed, full size copy of her front page.

ECHO Editor Alastair Machray said: "Sylvia's headline said what so many people would love to hear and delivered it in four succinct and eye-catching words.

"Congratulations Sylvia and well done to all our readers who entered.

"The standard was very high with many showing the wit, imagination and community spirit for which our city is so renowned."

Sylvia, a former civil servant, said she was "surprised" to have won.

She said: "I didn't expect it. All I can say was that I had my tea and thought I'd have a second cup and read the ECHO and I looked at the page and the only thing I could think of, straight from the heart, was 'Maddie Alive and Safe'.

"I didn't think another thing about it.

"But I pray for that child every day."

Kate Roscoe, from Toxteth, captured the "make Ken Dodd a knight" campaign beautifully with the words Arise Sir Doddy and is one of our runners-up.

The other runner-up place goes to Kathleen Connor, from Dingle, for her humorous, optimistic headline 'Great grandmother Kathy Connor from Dingle wins Lotto Million'.