Daily Telegraph (paper edition)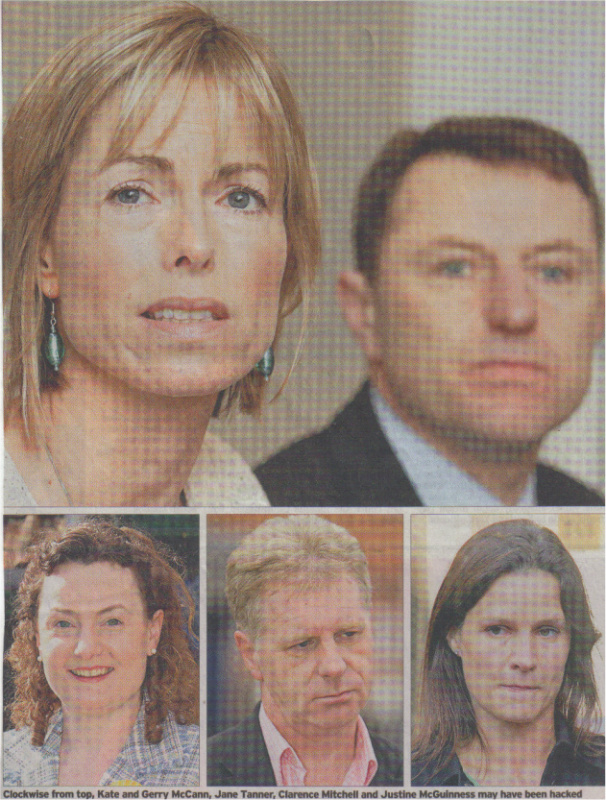 Clockwise from top, Kate and Gerry McCann, Jane Tanner, Clarence Mitchell and Justine McGuinness may have been hacked
[Front page]
Email evidence 'deleted'
Senior executives and staff at the News of the World attempted to obstruct the police investigation into telephone hacking by deleting millions of emails and hiding evidence from detectives, it was claimed last night.
An executive from News International, the tabloidís parent company, allegedly deleted potentially incriminating emails from an internal archive shortly after Scotland Yard began its second investigation in January.
It is also alleged that the contents of a reporterís desk were removed following his arrest before police had an opportunity to conduct a search.
The allegations came as The Daily Telegraph learnt that detectives have been handed a list of potential telephone hacking victims linked to the Madeleine McCann case.
The list of 67 names and numbers includes Kate and Gerry McCann, parents of the missing child, and politicians including Nick Clegg and Sir Menzies Campbell. It was handed to officers working on Operation Weeting,

Continued on Page 6
-------------------
Page 6]
McCann file goes beyond Mulcaire hacking list
Continued from Page 1

the Metropolitan Police's investigation into telephone hacking at the News of the World last year.
An alleged mass deletion of emails was reported by The Guardian newspaper.
News International last night denied that police were investigating a suspected deletion of emails by an executive at the company. A spokesman said: "This assertion is rubbish. We adopted a documented email retention policy in line with our US parent's records management policy. We are cooperating actively with police and have not destroyed evidence.".
Last month, News International journalists handed over evidence of journalists' alleged involvement in bribing police officers, but was warned by Scotland Yard not to make an announcement . When the existence of the emails became public this week, detectives concluded that the agreement had been breached.
It is also claimed that after the arrest of James Weatherup, a senior journalist at the paper, in April, his desk was cleared and its contents lodged with solicitors. The Metropolitan Police is said to have consulted the Crown Prosecution Service over whether charges would be brought against unnamed individuals at the paper over the action. Mr Weatherup was released on bail until September.
The list containing details of people linked to the Madeleine McCann investigation suggests the victims are not confined to names seized from Glenn Mulcaire, the private investigator. Although the three year-old went missing in May 2007, after Mulcaire was jailed, some connected to the investigation into her disappearance raised concerns that their telephones may have been hacked.
One is understood to be Justine McGuinness, a Liberal Democrat adviser who was a spokesman for the McCanns. The list also features Jane Tanner, who was on holiday with the McCanns in Praia da Luz, Portugal. Clarence Mitchell, the McCanns' spokesman, has also confirmed he met officers over attempts to access his Vodafone account.
A Scotland Yard spokesman said of the list: "If anyone is concerned about telephone hacking we are duty bound to take it seriously."