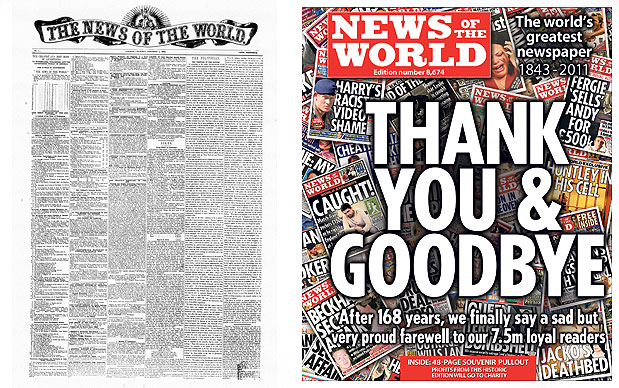 The first and last editon of the News of the World. Discontinued 10th July 2011 after 168 years.
As staff at the News of the World trooped out of the Wapping plant to a round of applause last night anybody would have thought they had been engaged over the years in something admiral. Many were expecting them to hang their heads in shame.
As the media mogul himself Rupert Murdoch arrived at News International today sporting a straw boater and apparently reading the last copy of the NOTW, already the focus seems to have shifted regarding the culture of newspapers like this. In its final edition we are drowned by crass sentimentality in the form of 'the better' readers comments coupled by a strange cherry picked montage of former front pages highlighting pioneering stories like the expose of corruption within the Pakistani cricket team.
What about all the cheap, made up, sensationalist and downright sick stories propagated by this tacky tabloid relating to murder victims and their families? What about the sexualising of children as seen with the disappearance of Madeleine McCann? What about the glorification of murderers (whereas this newspaper has generated interest in these monsters as some kind of titillating read) and what about NOTW journalists deleting the messages on Milly Dowler's phone so the family were duped into believing she could still be alive?
Not to mention that the NOTW always purported to be a family newspaper but successively published sordid sex scandal after sordid sex scandal; then there were the veiled threats that if politicians spoke out against the paper the NOTW would 'come after them' and publish details of their personal lives. Yes, they were nasty bullies too and ruthlessly profiteered from it all.
What about conditioning readers that celebrity culture is the be all and end all of existence and saturating them with it? And what about influencing people on how to think and vote?
In contrast, others argue that the NOTW distributes what people want to read. How can one ever know this for sure? Material from this paper and others like it is the top and bottom of what large sections of our society are conditioned by.