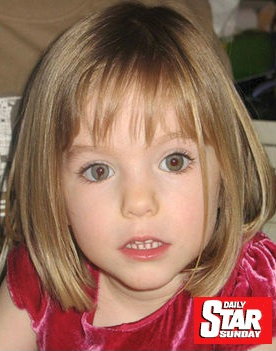 ABOVE: More than four kids in the UK are snatched like Madeleine McCann every single week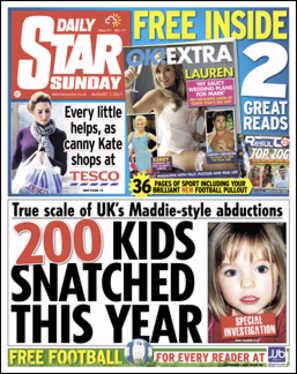 'Officials had no idea of the scale of the threat posed to children'
MORE than four Brit kids are snatched by strangers every week, a shock Daily Star Sunday investigation can reveal.
Even more horrifying is that officials had no idea of the scale of the threat posed to children.
The only centrally-held statistics cover all child abductions but have no breakdown of those involving strangers.
Today there are calls for immediate changes to the way we monitor crimes affecting the most vulnerable members of society.
Our probe found that there were at least 500 reports of child abduction in England and Wales in 2010 and 211 and, of those, around 42% involved strangers snatching or attempting to snatch youngsters.

The figures, obtained by contacting every police force in England and Wales, show the whereabouts of abduction hotspots.
Just under a quarter of cases involving strangers were in the Metropolitan Police force area, while Greater Manchester Police reported 46 cases of "abduction of a child by other persons".
West Midlands police had 25 cases, although they pointed out that none had been "successful" stranger abductions.
Although we obtained the fullest picture ever collected, one police force out of the 43 refused to tell us how many children had been snatched or targeted. Cumbria Police claimed that giving us the figures would potentially breach data protection issues.
Almost all the figures submitted for child abductions included attempted abductions, so a breakdown showing how many children were snatched was not available.
Lady Catherine Meyer, who runs the Parents and Abducted Children Together charity (PACT), has been campaigning for a better system of recording missing and abducted children for the past five years.
Lady Meyer, who set up PACT after her own children were abducted, said 211 was "a lot of children abducted by strangers". She added that a central database was "something I've been lobbying and fighting for for years".
The charity Missing People said our investigation highlighted the need for a national strategy.
Chief executive Martin Houghton-Brown said: "These findings add further weight to the Government's announcement that it will be developing a national strategy on missing people."
A Home Office spokesman said: "We are determined to protect vulnerable children."