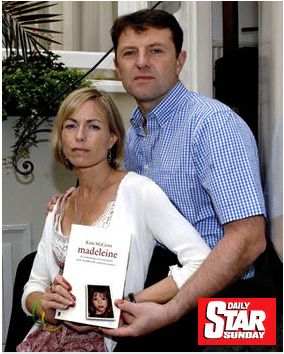 ABOVE: Kate and Gerry McCann are horrified by the number of children being snatched every week
'As we learned more, and discovered the massive scale of the problem, we were appalled Kate McCann, in her book entitled Madeleine'
KATE and Gerry McCann last night said the level of child abduction our investigation uncovered was "shocking".
Kate McCann the mum of Maddie – who disappeared aged three during a family holiday in Portugal in 2007 – said the situation in the UK was "horrific".
In a section of her book, entitled Madeleine – which she gave us permission to reproduce to highlight the problem – Kate, 43, wrote: "As we learned more, and discovered the massive scale of the problem, we were appalled.
"It is important to note, too, that abductions leading to more serious crimes, such as sexual abuse or homicide, will not be recorded as abductions but as the more serious crime.
"What is not in doubt is that the available statistics underestimate the scale of the problem.
"As a parent you need to know that all that can be done is being done – and as quickly and thoroughly as possible."
The family's spokesman said: "The figures you have discovered are clearly shocking."