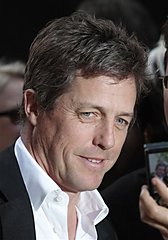 FILE - In this Monday, May 9, 2011 file photo of British actor Hugh Grant, as he poses with fans as he arrives for the European premiere of the 'Fire in Babylon' film at a cinema in London. It was anounded Tuesday, Sept. 13,2011 that Hugh Grant is to join Halle Berry and Tom Hanks in screen adaptation of David Mitchell's 'Cloud Atlas'. (AP Photo/Lefteris Pitarakis, File)
An electic mix of celebrities, crime victims and former police suspects will take part in a judge-led inquiry into the state of Britain's scandal-tarred press.

Lord Justice Brian Leveson said Wednesday that Harry Potter creator JK Rowling, actors Hugh Grant and Sienna Miller, Formula One boss Max Mosley, the parents of missing girl Madeleine McCann and murdered schoolgirl Milly Dowler will participate.
Leveson has been asked to examine the ethics of the British media and to investigate improper conduct.

The group of around 46 people will give evidence on alleged media intrusion into their private lives.

The inquiry was set up in response to the phone hacking scandal in which journalists at News International are accused of hacking into voice mails.