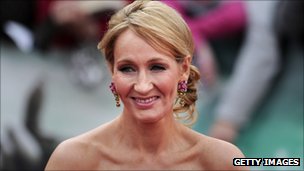 A total of 46 people, including many household names, are now deemed specially interested parties
Almost 50 alleged victims of media malpractice have been granted the right to be "core participants" in the judicial inquiry into phone hacking.
They include author JK Rowling, actors Hugh Grant and Sienna Miller, and the family of murder victim Milly Dowler.
Core participant status means a person will be represented by a barrister and can seek to cross-examine witnesses and make opening and closing statements.
The inquiry's first stage will examine relations between the press and public.
The 46 who have now become specially interested parties also include the parents of Madeleine McCann, Max Mosley and Paul Gascoigne.
Brooks refused status
Core participants may also apply for public funding for legal representation.
They will also be able to seek approval to cross-examine those giving evidence. However, the head of the inquiry, Lord Justice Leveson, said he was likely to "significantly limit (if not refuse)" such applications.
He said he had not granted an application by former News of the World editor Rebekah Brooks for core participant status.
"I hope and believe that her input into the inquiry will be of enormous value but, at this stage and in the context of what I am presently required to do, I do not consider that it is necessary or appropriate to designate her as a core participant," he said.
The judge said he had also refused applications for core participant status made by private investigator Jonathan Rees, writers' association English Pen and the Index on Censorship.
But Lord Justice Leveson said he could reconsider the status of non-core participants and that they could apply to make written closing submissions.
'Improper conduct'
Lord Justice Leveson said the hearing would examine the relationship between the press and the public, the press and the police and the press and politicians.
He said he would initially look into the "culture, practice and ethics" of the press before moving on to the extent of any improper conduct.
The judge said the inquiry would last several months and he would aim to produce a report within a year.
The full list of core participants, revealed on the inquiry's official website, is:
Chris Bryant, MP
Tessa Jowell, MP
Denis MacShane, MP
Lord Prescott, former MP
Joan Smith, journalist
Christopher Shipman, son of mass murderer Harold
Tom Rowland, freelance journalist
Mark Lewis, lawyer
Mark Thomson, lawyer
Gerry McCann, father of missing girl Madeleine McCann
Kate McCann, mother of Madeleine
Christopher Jefferies, former landlord of alleged murder victim Jo Yeates
Max Mosley, ex-Formula 1 boss
Brian Paddick, ex-Met Police deputy assistant commissioner
Paul Gascoigne, ex-footballer
David Mills, former Culture Secretary Tessa Jowell's estranged husband
Sienna Miller, actress
Hugh Grant, actor
Ben Jackson, actor Jude Law's personal assistant
Ciara Parkes, publicist
Simon Hughes, MP
Max Clifford, publicist
Sky Andrew, football agent
Ulrika Jonsson, TV presenter
Mark Oaten, former MP
Michele Milburn, theatrical agent
Abi Titmuss, model
Calum Best, son of footballer George
Claire Ward
Mary-Ellen Field, intellectual property expert
Gary Flitcroft, former footballer
Ian Hurst, former Army intelligence officer
Shobna Gulati, actress
Mike Hollingsworth, former TV executive
Kieron Fallon, jockey
Ashvini Sharma, former Air India chief executive
Tim Blackstone, brother of Baroness Blackstone
Valatina Semenenko, artist
Sally Dowler, mother of murdered schoolgirl Milly Dowler
Bob Dowler, father of Milly
Gemma Dowler, sister of Milly
Sheryl Gascoigne, Paul Gascoigne's ex-wife
Graham Shear, lawyer
JK Rowling, author
James Watson, father of stabbing victim Diane
Margaret Watson, mother of Diane