Kate and Gerry McCann want to highlight their experiences at the hands of the British press during the judicial investigation into the phone-hacking scandal.
The couple, whose daughter, Madeleine went missing in May 2007, were among those named yesterday as potential witnesses in an investigation provoked by anger at journalists' illegal interception of phone messages.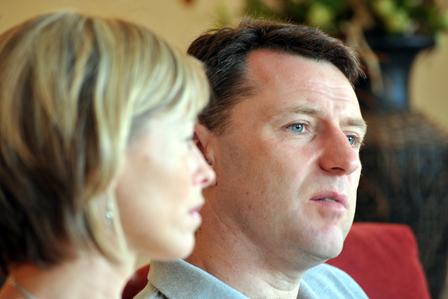 Kate and Gerry McCann
But the couple's spokesman, Clarence Mitchell, said there was no evidence their phones had been hacked.
He said the couple, who live in Rothley, hope to be granted "core participant status" in the inquiry, expected to deliver its report in a year.
This would give them the right to be represented by a legal team, who could cross-examine witnesses and make opening and closing statements.
Mr Mitchell said the remit of the inquiry was far wider than phone hacking.
"It is going to be looking at press ethics and media activity in general and they are deemed to be relevant witnesses on that basis," he said.
"Assuming they get that status, the plan will be that they will give evidence about their treatment at the hands of the press more generally."
Inquiry officials appearing at the High Court, in London, yesterday published a list of names and organisations who will appear as witnesses.
They included former News International chief executive Rebekah Brooks, former senior Metropolitan Police officer John Yates, News International, the Guardian newspaper, Express Newspapers and the Metropolitan Police.
The McCanns have spoken and written about press intrusion and misrepresentation of their campaign to find Madeleine, who disappeared from her family's holiday flat in the Portuguese resort of Praia da Luz, in the Algarve, on May 3, 2007, as her parents dined out nearby with friends.
In March 2008, they accepted a payment and front page apologies from Express Newspapers.
It related to what they said were 100 "grotesque and grossly defamatory allegations" in the Daily Express, Daily Star, Sunday Express and the Daily Star Sunday.
Mr Mitchell has previously told the Leicester Mercury it is possible he was a victim of illegal attempts to access his mobile phone messages at the height of the case.
He said, in July this year: "We were not naive.
"At that time, we knew it was a possibility that this was going on so we were always careful about what we said in messages."
Other people whose names were put forward for core participant status yesterday were former Formula 1 boss Max Mosley and Chris Jefferies, the former landlord of alleged murder victim Jo Yeates.
Barrister David Sherborne said he also represented another group of more than 100 "victims'' whose voicemail had allegedly been intercepted.
He said many of those had already launched legal action against News of the World publisher News Group Newspapers, which is part of News International.