Lawyers involved in the phone hacking inquiry could earn up to £200 an hour, it has emerged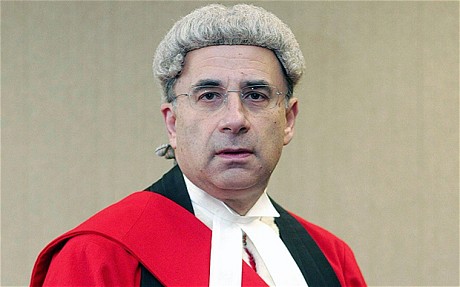 Lord Justice Leveson plans to report to government within a year Photo: AP
The Leveson inquiry is today expected to set a date for the start of oral hearings into the phone hacking scandal at the News of the World and the broader relationship between the media, police and politicians.
Lord Justice Leveson plans to report to government within a year and has insisted he wants to keep the costs of the inquiry down.
However, an inquiry document published yesterday signalled that some barristers and lawyers could be paid for out of public funds and at substantial hourly rates.
It placed a ceiling on funding at £200 an hour for leading counsel, £100 an hour for junior counsel, £150 for solicitors and even £75 an hour for trainee lawyers.
Although a timetable is still to be set, the oral hearings are likely to run for several months, meaning the inquiry is likely to cost tens of millions of pounds.
A taxpayers' campaign group warned against the inquiry turning into a money pit for legal teams.
But one legal expert said the rates were substantially lower than average costs in inquiries and that Lord Justice Leveson should be praised for his attempts to keep costs down.
Inquiries have long been criticised for running up huge costs and delays, usually at public expense. The Bloody Sunday inquiry in to the deaths of 14 civilians during a civil rights march in Londonderry in January 1972 lasted 12 years and cost almost £200 million.
Robert Oxley, campaigns manager at the TaxPayers' Alliance, said of the Leveson inquiry: "With an issue that affects the foundation of democracy, there has to be a proper investigation in to the allegations.
"But it is important the investigation represents value for taxpayers' money and that the result is to restore faith in the organisations and not to bolster the pockets of well-paid lawyers."
As well as the phone hacking scandal, the year–long inquiry will look at the issue of press practices and ethics and its relationship with the public, police and politicians.
Newspaper groups, the Metropolitan Police and politicians and personalities, including Hugh Grant, Sienna Miller, JK Rowling, are to be represented. The parents of Madeleine McCann and Milly Dowler will also play a role.
The inquiry protocol on public funding makes clear that large organisations and the wealthy will almost certainly not be eligible and will have to pay for their own legal representation.
Mark Stephens, of Finers Stephens Innocent, who has worked on previous inquiries, including Bloody Sunday, said the hourly rates were a fraction of usual fees. He said a barrister in an inquiry could command £1,000 an hour, while a solicitor could earn £300 an hour. He said Lord Justice Leveson had to be commended for preventing lawyers treating the inquiry as a "money cow".