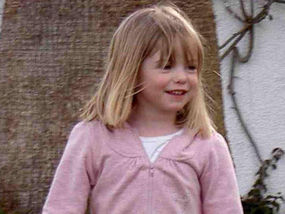 Madeleine McCann went missing in May 2007
SCOTLAND Yard detectives made a secret visit to Spain in the hunt for Madeleine McCann, it was revealed.
Officers spent three days in Barcelona for confidential talks with Spanish police and law enforcement officials.
The Yard confirmed the summit had taken place as it emerged detectives have so far made three visits to Portugal in the hunt for new leads.
And police sources said yesterday: "We are making progress." Madeleine's parents, Kate and Gerry McCann, praised the Yard yesterday and said: "We are pleased the review is making progress."
Madeleine was three when she vanished from a holiday flat at the resort of Praia da Luz on the Algarve, Portugal, in May 2007.
No trace of her has been found and there is no clear picture about what happened.
But one line of inquiry was that she had been kidnapped by a paedophile gang and was smuggled into Spain by road or sea. Speculation that the key to the mystery lay across the border was fuelled by several sightings in Spain in the days following Madeleine's disappearance.
It is a big relief to us that our Government finally agreed for a review to take place
Kate McCann Website statement
The three-man team from the Yard's Operation Grange squad spoke in detail about the sightings and various theories with their Spanish counterparts.
The trip to Spain last month and the visits to Portugal are believed to be "laying the ground work" for future liaison between police in the three countries.
There is no question that the trips either to Spain or Portugal have produced any major breakthroughs. More liaison visits are planned for the near future.
Yesterday, a Yard spokeswoman confirmed the three detectives spent three days in Barcelona from November 23 to 25. She added: "The review continues. There has been very good co-operation with Portuguese authorities and liaison will continue.
"We are not prepared to discuss specific details of these visits nor speculate about any future deployments to Portugal or elsewhere."
Portuguese police, assisted by Leicestershire Police – the McCanns' home force – carried out a massive investigation into Madeleine's disappearance. But the official inquiry was formally shelved in July 2008.
The McCanns, both doctors from Rothley, Leicestershire, are convinced clues were missed and potentially vital leads never followed up.
In despair, the couple hired a team of private investigators.
The Yard launched Operation Grange in May following a request to the then Commissioner Sir Paul Stephenson from Home Secretary Theresa May, backed by the Prime Minister.
In August, police made their first of three visits to Portugal for talks with the officers involved in the original inquiry.
It is believed 30 officers are working on the review under Detective Chief Inspector Andy Redwood, who is thought to have taken part in the Spanish talks.
There was unease among some politicians about the amount of resources dedicated to the review.
The Operation Grange team is solely engaged on the Madeleine case while other squads handle several murder investigations and cold case reviews at the same time.
Mrs McCann, 43, and Mr McCann, 42, a heart specialist, are convinced a major breakthrough will now eventually be made.
Kate McCann wrote on the Find Madeleine website at the end of October: "It is a big relief to us that our Government finally agreed for a review to take place. We are grateful to them and to the Metropolitan Police Service for undertaking this fundamental and highly valuable procedure.
"Although it will be a lengthy and difficult process, it is definitely a major step forward for Madeleine."
The McCanns say they will never give up hope of finding their daughter alive.
On the website they state: "There is absolutely nothing to suggest that Madeleine has been harmed. Madeleine is still missing and someone needs to be looking for her.
"She is very young and vulnerable and needs our help. We love her dearly and miss her beyond words."
Portuguese files reveal there have been reported sightings of Madeleine in the US, Hong Kong and New Zealand as well as Portugal and Spain.