New Searches in the case of the missing child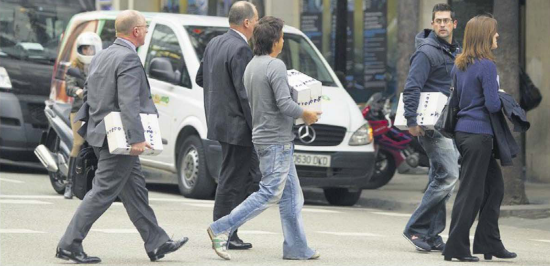 Agents from the Scotland Yard and from the Spanish National Police carry boxes with documents given by the detectives agency, yesterday in Barcelona
Police from the Scotland Yard search for clues about the mysterious disappearance of the little girl, Madeleine McCann, which occurred in May 3, 2007 at the Portuguese Algarve, where she was on holidays with her parents. The little girl disappeared a few days before her fourth birthday.
The British agents collected yesterday from the investigative agency Metodo 3 various boxes with copies of all the documentation that this private detectives accumulated during the six months they have worked for the parents of the girl. The London Metropolitan police reopened last May the review by order of the prime minister, David Cameron, and due to the request made by the parents.
Since then, Scotland Yard, reviews the investigations that were carried out, accordingly. They also have available a copy of the Portuguese police investigations, that archived the case in July of 2008 due to lack of evidence. Scotland Yard has allocated thirty people to this new investigation.
In the night of her disappearance, Madeleine slept in a bungalow in Praia da Luz with her two siblings whilst her parents dined at the near by bar.
Neither the police investigation, nor the private searches supported by the parents, nor the noisy media circus created around the dozens of alleged clues of the most varied kind have been able to explain what happened.