Viscount Rothermere says he is 'deeply sympathetic' to McCanns but that he stood by editor Paul Dacre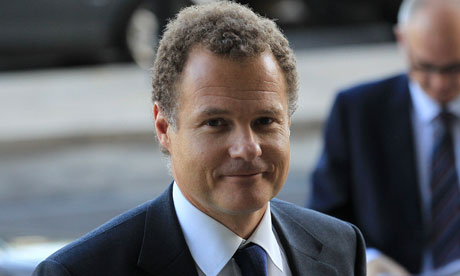 Viscount Rothermere, the controlling shareholder of the Daily Mail, arrives at a parliamentary committee hearing on privacy and injunctions. Photograph: Olivia Harris/Reuters
Viscount Rothermere, the controlling shareholder of the Daily Mail, said he had a "personal concern" about his title's coverage of the disappearance of Madeleine McCann in 2007 as he gave evidence to parliament on Monday.
In a rare public appearance, Rothermere told a parliamentary committee on privacy and injunctions that he was "very deeply sympathetic" to Kate and Gerry McCann but that he stood by Paul Dacre, the Daily Mail editor-in-chief, over the title's coverage of the couple's search for their daughter.
Asked by Labour MP Paul Farrelly if the Daily Mail's coverage of the McCann family gave him cause for concern, Rothermere said: "My paper writes about many things that give me personal cause for concern but I feel it's my duty to allow editors the job to edit.
"If I picked up the phone every single time I disagreed with an article then I would make their job a lot harder to do. I rely on the processes within the organisation and their obeyance of them in order to run a professional outfit."
Asked again whether he had any concerns before the McCanns sued, Rothermere said: "I am very deeply sympathetic to everything the McCanns have gone through."
Pressed by Farrelly, Rothermere admitted: "I had personal concerns, yes. I think what the McCanns went through was very difficult for them but I did not bring up the issue with Paul Dacre, if that answers your question."
The McCanns told the Leveson inquiry into press standards three weeks ago how they were subject to a string of "disgusting" and "offensive" stories after their daughter Madeleine went missing in Portugal four years ago.
Associated Newspapers, publisher of the Daily Mail and formerly of the Evening Standard, made a substantial donation to the McCanns in 2008 after they sued for libel. The Daily Mail agreed to carry free adverts on behalf of the Find Madeleine campaign but refused to apologise, according to Gerry McCann. The Evening Standard agreed to publish an apology.
Rothermere, who rarely makes public appearances on behalf of the company, added that it was important for proprietors to "fiercely protect" editors of their newspapers as long as there had been "no gross dereliction" of duty. "I do not believe and the board does not believe that any of the instances you've brought up today qualify under that," he added.
Earlier, Farrelly compared Rothermere to James Murdoch, referring to the proprietor's "dispassionate replies" when pressed on standards. "I do care about standards. Standards are important," Rothermere said. "I think that your comparison to News International is unfair."
• To contact the MediaGuardian news desk email editor@mediaguardian.co.uk or phone 020 3353 3857. For all other inquiries please call the main Guardian switchboard on 020 3353 2000. If you are writing a comment for publication, please mark clearly "for publication".