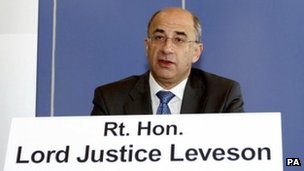 The first phase of Lord Justice Leveson's inquiry is looking at media "culture, practices and ethics
ny parliamentary move to regulate newspapers would "open a Pandora's box" which could stifle freedom of speech, the chairman of the Press Complaints Commission says.
Lord Hunt told the Leveson Inquiry into press ethics that he had seen state regulation "go very badly wrong".
He had consulted on proposals, and felt "there is a willingness to accept a fresh start and a new body".
His predecessor, Sir Christopher Meyer, also said he supported self-regulation.
Lord Hunt, who has been in his job since October, said he wanted to see the "participation of the whole industry in its own regulation".
He said: "There are very strong views in Parliament that there must be stronger limits on the power of the press and this would therefore, in my mind, open a Pandora's box."
Inquiry chairman Lord Justice Leveson asked him: "Do you think that Parliament might seek to use any form of legislation, however it was cast, as a way of controlling the press?"
He replied: "Yes, and they have told me so, many of them, in both houses."
He said part of the self-regulation was that newspapers should ensure internal compliance and complaints mechanisms should operate properly - "the admiral on the bridge should know what is happening in the engine room".
He said a new regulator should have two arms: one to deal with complaints and mediation, and the other for auditing standards and compliance.
He said he had spoken to "the whole range of publications".
"I sense there is a willingness to accept a fresh start and a new body."
His proposals include a five-year rolling contract for the publishers to sign up to.
Sir Christopher earlier told the Leveson Inquiry that legislation could be taken advantage of if the state became "less conscious of our freedoms".
Anti-terror legislation was an example of how the state could act in an authoritarian way, he said.
In his evidence to the inquiry into press standards and practices, Sir Christopher said that the current system of self-regulation in the UK was basically "as good as you're going to get".
He was chairman of the PCC when the phone-hacking scandal at the News of the World (NoW) first broke in August 2006.
He said that he was concerned that the phone-hacking scandal could lead to the introduction of regulation that would be more oppressive than it needed to be.
"Once you allow the state into this area, whatever the best intentions may have been, you are by definition standing on the top of a slippery slope.
"Twenty, 25 years later, things change, politics change, it is quite possible a less permissive and liberal state, less conscious of our freedoms, might try to take advantage of that legislation to do things that would be offensive to the principle of freedom of expression."
Sir Christopher said he was a strong believer in the freedom of the press and its self-regulation and that he believed "very firmly" that the PCC was a regulator.
In March 2008, the parents of missing girl Madeleine McCann won a libel settlement and apology from Express Newspapers for suggesting they were responsible for their daughter's death.
He said the McCanns had needed the press for publicity's sake, when their daughter disappeared in Portugal in 2007, but had been forced to strike a "Faustian bargain".
Sir Christopher said Portuguese police had been "leaking like sieves" and journalists under pressure to keep the story running had started taking risks.
"It is something that happens from time to time, and in this case it led to the McCanns being accused of something which is utterly abominable."
Sir Christopher said that the PCC had to be close to the industry it regulated and that he tried to take every national editor out to lunch once a year. But he denied being a "lap dog".
"If you think that I was sitting in their pocket not daring to do things that they disliked, then think again."
Lord Grade, chairman of the BBC between 2004 and 2006, was appointed to the PCC in May 2011, and said in his first few months he was "really surprised" by the extent of intervention by the PCC before publication "to stop some of the worst excesses".
He said he objected to statutory regulation because it would raise the prospect of judicial review, and the complaints process would be slower.
The Leveson Inquiry was set up by Prime Minister David Cameron in July 2011 amid new revelations of phone hacking at the now-defunct newspaper.
The first phase is examining the practices and ethics of the press.
A second phase of the inquiry, after a police investigation into phone hacking at the NoW is complete, will focus on unlawful conduct by the press and the police's initial hacking investigation.