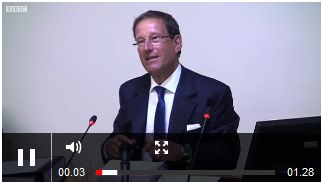 Richard Desmond on withdrawing from the PCC: "I felt it was a useless organisation... and it was run by the people that hated our guts, that wanted us out of business"
The owner of the Daily Express and Daily Star has launched a scathing attack on the Press Complaints Commission, describing it as a "useless organisation".
Richard Desmond said the PCC "vilified" the Express over its treatment of the Madeleine McCann story.
Both papers had suggested the McCanns were responsible for the death of the three-year-old, who vanished in 2007.
But Mr Desmond told the Leveson inquiry his paper had been a "scapegoat".
The inquiry, at the Royal Courts of Justice in London, has heard evidence from staff at Northern and Shell, which owns the newspapers - including editors of both titles.
They were the latest in a series of newspaper editors and executives to be questioned at the inquiry this week.
'We got it wrong'
In his evidence, Mr Desmond said all newspapers had written about the McCanns in more or less the same way, yet he claimed Sir Christopher Meyer, ex-chairman of the PCC, had targeted the Express and "strung out" its then editor Peter Hill.
In March 2008, Madeleine's parents won a libel settlement and apology from Express Newspapers for suggesting they were responsible for their daughter's death.

To see the chairman of the PCC stand on BBC TV and vilify Peter Hill and Express Newspapers, that was the final straw"
End Quote
Richard Desmond`
Express Newspapers
The newspaper group paid £550,000 to the Find Madeleine campaign, and the Daily Express and Daily Star both carried front-page apologies under the headline: "Kate and Gerry McCann: Sorry".
Mr Desmond told the inquiry: "All the newspapers were doing the same - plus or minus. We were the only honest ones - the straightforward ones.
"We stood up and said 'Yes, we got it wrong - there's the money for the fighting fund - let's try and find McCann, the poor little girl, let's put it on the front page and apologise properly'.
"Then to see the chairman of the PCC stand on BBC TV and vilify Peter Hill and Express Newspapers, that was the final straw.
"I felt it was a useless organisation who wanted tea and biscuits and phone hackers and was run by people that hated our guts, that wanted us out of business."
He said his organisation had run 102 articles on the McCanns over four months with no legal action taken "until a new firm of lawyers - who were on contingency - then came in to sue us.
"I do apologise. I am very sorry that we got it wrong but every paper was doing the same thing which is why most papers paid money to the McCanns. But only we were scapegoated by the PCC."
'Clamour for information'
He claimed the Leveson inquiry was probably the worst thing that had ever happened to newspapers in his lifetime.
"People are looking at every penny and if they believe papers are dishonest, hacking lowlifes they are not going to buy papers," he said.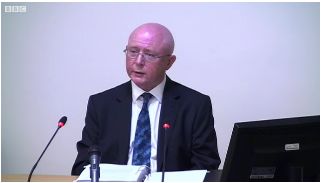 Peter Hill, former editor of the Daily Express: "I did not accuse them of killing their child"
Mr Hill, who was editor of the Daily Express between 2003 and 2011, denied he was "obsessed" with the McCann story.
"This was an unprecedented story that in my 50 years of experience I cannot remember the like," he said. "There was enormous clamour for information. It was an international story on an enormous scale. It was a story you could not ignore.
"I did not accuse them of killing their child. The stories that we ran were from those who did accuse them, and they were the Portuguese police.
"I felt that the stories should be published because there was reason to believe that they might possibly be true."
During his testimony, Hill complained about what he believed was a hostile line of questioning from Robert Jay QC, counsel to the inquiry.
"The fact of the matter is that this is a public inquiry, and I do not believe that I am on trial... I think you are putting me on trial," he said.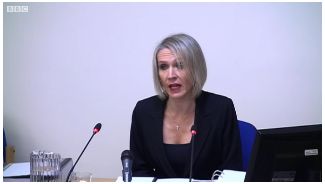 Dawn Neesom, Daily Star editor: "We ran the [McCann] story because it was huge and mistakes were made for which I am truly sorry"
In his evidence, Daily Express editor Hugh Whittow said he felt the PCC should have intervened when his paper and others were running stories about the McCanns.
But he said there should not be "state or government regulation" of the press. "We are more than capable of sorting out our own business. There have been rogue incidents but things have worked well. It needs a powerful body, perhaps with more power."
Earlier, Daily Star editor Dawn Neesom said she was "deeply sorry" for the upset her paper caused Kate and Gerry McCann over its articles on Madeleine, but said they had been based on information from the Portuguese police which she had thought was a "reliable source".
"It was a risk, and to this day I regret what happened in the McCann case, and all I can do is repeat the apology on page one for the hurt and distress we caused them," she said.
Private investigators
Nicole Patterson, head of legal for Express Newspapers, told the inquiry an internal investigation looking back as far as 2000 had found no evidence of phone hacking by the group.
She told the inquiry Express Newspapers had spent £115,000 on search agents over 10 years. This compared with £9m spent on pictures in 2008.
However, she conceded the group had continued to use private investigation firm JJ Services for more than five years after its proprietor, Steve Whittamore, was convicted of illegally accessing personal information.
Mr Whittamore was arrested in 2003 and jailed in 2005 for illegally accessing data and passing it on. But an internal audit revealed that her group used JJ Services until 30 July, 2010.
She said she did not know whether Mr Whittamore was still being employed, but he had been used by the Express titles 65 times and the Star four times.
Ms Patterson said she could not explain a payment to JJ Services of £2,287.50.
The Leveson Inquiry was set up by Prime Minister David Cameron in July 2011 amid new revelations of phone hacking at the now-defunct News of the World.
A second phase of the inquiry, after a police investigation into phone hacking at the News of the World is complete, will focus on unlawful conduct by the press and the police's initial hacking investigation.