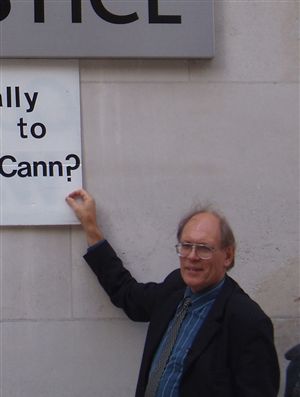 The lawyer Tony Bennett
Lawyer and chairman of the Madeleine Foundation faces prison for defaming Kate and Gerry
Tony Bennett, a retired lawyer who heads a private foundation in the name of Madeleine McCann, the Madeleine Foundation, faces a possible prison sentence if found guilty of the harassment of Kate and Gerry McCann.
The parents of little Maddie, who disappeared in 2007 in Praia da Luz, in the Algarve, are prosecuting Tony Bennett, attributing the lawyer with authorship of a smear campaign against them. According to the British newspaper 'The Sunday Telegraph' yesterday, the alleged harassment of Kate and Gerry McCann has been through the release of public leaflets and publications, in which Tony Bennett argues that the couple are responsible for the alleged death of the child.
The couple are prosecuting the lawyer and, at the beginning of February, a British court will be able to adjudge on his imprisonment, as well as the payment of compensation, which the lawyer can hardly bear.