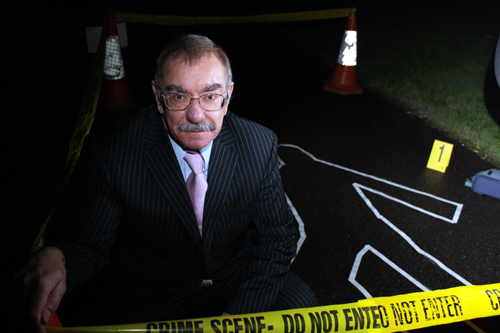 Professor Barclay based the main character, Professor Nick Fennimore, on himself

A FORENSICS expert who worked on high-profile cases such as Madeleine McCann and Milly Dowler is taking on Ian Rankin at his own game.
Dave Barclay, a professor at Robert Gordon University, Aberdeen, has won a publishing deal for his own crime-busting sleuth.
Professor Barclay has at least one major advantage over Rankin having worked on no fewer than 213 real-life, cold-case murders.
The 66-year-old academic has created maverick forensics expert Professor Nick Fennimore to challenge Rankin's Inspector John Rebus in the fictional sleuthing stakes.
Fennimore, described as maverick forensics expert with a chequered past, passion for puzzles and love of 60s and 70s-era folk rock, is a thinly-disguised version of Professor Barclay himself.
The professor is said to be fond of playing Joni Mitchell records while lecturing students in the Granite City.
Professor Barclay, who is based at the university's School of Pharmacy and Life Sciences, is a former head of the UK National Crime and Operations Faculty and also worked on the investigation in to the murder of the Soham schoolgirls.
Ethic
The professor admitted the similarities between himself and the fictional hero will be plain to see to anyone who has sat through one of his lectures at RGU.
"I would expect some of my students to recognise characteristics in me – particularly in some of Fennimore's literary and musical allusions, puns and anecdotes."
"He is an ideas person but still has a very strong work ethic once he has started something."
The forensic scientist has always dreamed of bringing his career as a crime investigator to a wider audience, and has helpedAberdeencrime writer Stuart MacBride research his novels in the past.
He also advised on the pilot of Waking the Dead and provided technical advice to a number of BBC Timewatch episodes.
The new deal came about after he was approached by a literary agent who heard him speak at a national crime writer's conference.
He is responsible for the plot, characters and all of the technical details of the first novel, in which Fennimore is approached by a young female detective whose first murder case opens a can of worms involving dangerous drug dealers and a corrupt senior police officer.
Helped by co-author Margaret Murphy, he is now putting the finishing touches to the storyline.
The first book in the series, titled Dead Reckoning, is due out in the spring of 2013 under the pen-name A.D Garett, published by London-based Constable & Robinson. The plot of a follow-up is being finalised.
Tensions
The book follows Professor Fennimore, a failed genetics student, a successful gambler and toxicology specialist who now lectures at RGU.
In his first crime adventure, Fennimore is approached by a young female senior investigating officer (SIO) who has hit upon her first murder case.
Tension rises as the case rapidly becomes more complex, with Fennimore uncovering connections to a series of drug importations and other murders.
Speaking about the similarities between the fictional series and his own experiences as a live-murder investigator and an academic Prof Barclay said: "The home location of Fennimore is based at RGU, and everything to do with that aspect will be realistic such as the lecturing style, facilities and ethos of the department. However, the plot really doesn't mirror RGU or any police force I know of, I'm glad to say!"
The academic-turned-author said that he is pleased that Robert Gordon is finally getting recognised as a world-leading forensic science University.
"We are turning out problem-solvers, people who are comfortable when things go wrong and able to come up with solutions," he said.
"I always wanted to be Sherlock Holmes, and my career as a forensic scientist has brought me as close to this dream as anything could."