Express and Star owner gave inquiry the real deal and showed how reluctant he is to return to a revamped PCC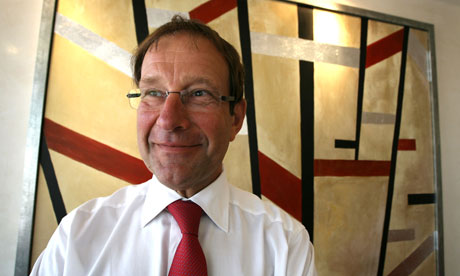 Richard Desmond's evidence to the Leveson inquiry showed how reluctant he is to return to a revamped PCC. Photograph: Susannah Ireland /Rex Features
Say what you like about Richard Desmond, but in a week of uncommonly sharp suits and unexpectedly refined voices, Lord Justice Leveson got the real deal from the owner of the Express and Star newspapers, as he conceded he didn't understand ethics, voiced hatred of Paul Dacre, and proposed replacing the Press Complaints Commission with his own "RCD committee" (a play on his initials) of cronies. This is how Desmond thinks – a man convinced of his outsider status, who is instinctive not intellectual, and driven by a desire to make money and prove his critics wrong. But while Leveson saw the truth, he also saw the problem – how reluctant Desmond is to return to a revamped PCC, and how unclear it is what, if anything, would satisfy him.
Don't doubt then that Desmond's testimony, for all the entertaining sideswipes at the Mail, was a disaster. What did he think he was doing going before a public inquiry, offering gags as solutions, and being so dismissive of that oh-so-passé notion, ethics? So it is tempting to give up. Let the publishers that care set up their own body with improved mediation and regulation, and let Desmond's newspapers bear the brunt of the criminal law.
Leveson looked as if he was keen on that option, as Desmond's testimony ended abruptly with no questioning from the presiding judge. Even Sheryl Gascoigne got closing questions; it is normally the point where he likes to test a hypothesis. But while most of us need not worry too much about Desmond, this is not an option for the judge.
Leveson's problem is the McCann test. Gerry and Kate McCann were repeatedly libelled by the Desmond titles, and made the point before the judge (who showed he valued them by inviting them to give evidence) that nobody lost their job when the publisher agreed to pay out £550,000 and issue four front page apologies, as it admitted it was wrong to speculate, with no supporting evidence, that the couple had killed their daughter.
Leveson cannot credibly propose a reformed PCC that won't cover Desmond – because the McCanns won't be impressed by a system that leaves the possibility of something similar happening again.
This is not to say that Desmond is entirely wrong. He is right to criticise the PCC as a club too often chaired by Tory grandees, and to question whether serving editors should be involved, sitting in judgment on their rivals. He is right, too, to be upbeat about Ofcom, which does not suppress investigative journalism, as the authorities in Turkey (who hated the Duchess of York's ITV film about orphanages) might like to. But it is bizarre to suggest that the PCC, an organisation with no power of prior restraint, should have somehow intervened to save the Express and Star titles from themselves. Under self-regulation it is essentially the newspapers' job, after all.
Two options remain as a result of his intransigence. There's the much-hyped carrot, where club members keep the VAT reduction and membership of sales audit bodies, and perhaps benefit from access to cheaper mediation and lower libel payouts. Except even 20% VAT on a 30p Daily Star is an affordable 6p. There are ways of publishing audited sales numbers without being part of the ABC – the Times and Sunday Times publish independently audited figures for paywall subscribers. And it is not obvious that a two-tier payout system can be fair on litigants, who should be compensated in proportion to the wrong suffered.
That only leaves one solution – a statutory requirement for all newspapers to be part of the PCC-plus. Owners of major titles cannot be allowed to opt out; either that, or there is no point having a revamped PCC at all.