Ian Hislop said it would be almost impossible for Private Eye to join a body where aggrieved editors could exact their revenge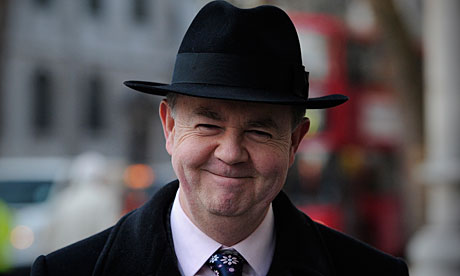 Private Eye editor Ian Hislop arrives at the Leveson inquiry. Photograph: Carl Court/AFP/Getty Images
Street of Shame, for those unfamiliar with Private Eye, is a two-page fortnightly compilation of journalistic hypocrisy and proprietorial interference read eagerly across Fleet Street. It is, arguably, a more effective regulator than the much-maligned Press Complaints Commission – and Ian Hislop made the important point that it would be almost impossible for his title to join a body where aggrieved editors could exact their revenge in complaints from their peers. He could not expect a "fair hearing", reckoned Hislop, whose title is the most important refusenik after Richard Desmond. After all, who regulates the regulator?
It was a point not lost on Lord Justice Leveson himself, who spent what was clearly an enjoyable hour listening and debating with the man who is also on Have I Got News For You. The judge says that he has not yet made up his mind, but the fact that he keeps returning to the same set of questions makes clear what he sees as important four months into his inquiry into press standards.
Again and again, Leveson says he does not want to be a historical footnote, arguing that he must solve once and for all two problems: the Desmond problem, in which one newspaper group opts out of a reformed system; and the McCann problem, in which any reform must be acceptable to the family who were traduced by hostile coverage that implied they had murdered their daughter when there was no supporting evidence to justify that assertion.
The solution to both must ultimately involve some form of compulsion through legislation – although every time Leveson hinted at that, he gave rise to the dreaded notion of "statutory regulation", even the merest hint of which gave several of the editors appearing on Tuesday the vapours.
Hislop complained that it took five months and £350,000 to settle a legal battle with Michael Napier, a former president of the Law Society, and argued that this was a good example of why privacy injunctions of the type used (ultimately unsuccessfully) by Napier should be banned.
Leveson, though, had a different view, asking: "Is there not a value in having a mechanism to resolve that sort of issue, definitively – in other words, binding on everybody – but very quickly, so that you don't risk all that money and all that time and run the risk that you've just been talking about?" Cue, in other words, a libel and privacy tribunal.
Introducing such a body, which would solve the McCann problem by reducing the costs of access to justice, would necessarily require the passing of a fresh law.
James Harding, the editor of the Times, was seriously unimpressed by the prospect of a "Leveson Act".
Set up perhaps with noble intentions, the Leveson law would cause all sorts of long-term problems, Harding said, because if there were any future transgressions by the press it would give "politicians the opportunity to say, 'Well, Lord Justice Leveson's work was good but we're going to just ratchet it up a little bit through this amendment or through that small act of legislation', and that's something I hope that this inquiry will think about."
In fact, both Harding, and John Witherow, editor of the Sunday Times – two men not always given to agree – felt that it would put the press into something akin to the position of the BBC. As Witherow, whose paper has not always been friendly to the public broadcaster, put it: "If you just think back on the BBC and the dodgy dossier, the huge furore that burst out over that and the resignation of the director general. I think it was because No 10 thought they had some stake and some control in the BBC."
But the presiding judge was unconvinced, marking out a clear distinction between undesirable "statutory control" and the need for an underpin that will ensure that the next time there is a Madeleine McCann or Christopher Jefferies story there will not be another a familiar feeding frenzy.
It is these rhetorical jousts with messrs Hislop, Harding and Witherow that are at the heart of the Leveson inquiry. If the judge is to achieve a lasting settlement – solving those Desmond and McCann problems – he will need some sort of supporting legislation. But if the judge goes too far, or too far from where the majority of newspapers want him to go, he will run into not just media but political opposition. The battle is joined.