Express Newspapers owner says he would be happy to join an overhauled version of the PCC, and recommends it be named RCD after Richard Clive Desmond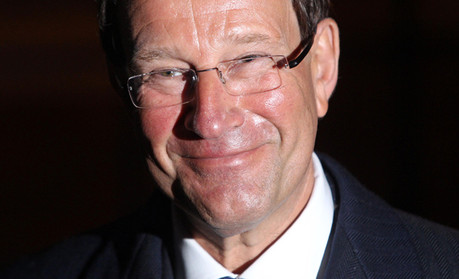 Richard Desmond told Lord Leveson during his appearance that he thought the inquiry was 'probably the worst thing to happen to newspapers in his lifetime'
Copyright: Lewis Whyld/PA
Express Newspapers proprietor Richard Desmond has signalled he is willing to return his titles to a system of self-regulation, having pulled out of the PCC early last year.
In an appearance before the Leveson inquiry, at turns bizarre and combative, Desmond heavily criticised current body the PCC, calling it "a useless organisation run by people who want to eat biscuits, and phone hackers".
But he said that he was willing to bring the Daily and Sunday Express and Daily and Sunday Star back under industry regulation provided it was overhauled.
He professed to like the PCC's new chairman, Conservative peer Lord Hunt, who he said was capable of running a new body, "surrounded by a couple of lawyers, a couple of grandees, not malicious people".
"You've got to have people you respect," he added. "You can't have people you don't respect."
Provoking exasperation from inquiry counsel, Robert Jay QC, Desmond repeatedly suggested the new body be named RCD, after Richard Clive Desmond.
"It has a nice ring to it, don't you think?"
Asked by Jay to confirm whether he would join a new regulatory body "with a constitution you respect", Desmond said: "Yes. It's as simple as that. I stay in this country because I respect the government and the laws of the land.
"If I didn't, I would leave. As would you."
Desmond told the inquiry that Express Newspapers was "not a natural member of any club", adding that his decision to withdraw from the PCC was prompted by the body's comments about former Daily Express editor Peter Hill in the wake of the Madeleine McCann controversy.
"The way they hung Peter HIll out to dry … As I saw it we were the only honest ones. We got it wrong, we said 'there's the money, let's try and help find Madeleine, let's put it on the front page and apologise properly'.
"Then to see the chairman of the PCC, whatever his name was, vilify Peter and Express Newspapers, that was the final straw".
Desmond defended Hill over the paper's coverage, telling the inquiry that he "did everything reasonable to make sure he was getting the facts and getting the story across".
He told the inquiry that he was not trying to justify the coverage, for which the paper was heavily censured by the PCC and printed a front-page apology, but said that it took the McCanns "a long time to get into a legal dispute with us".
"They were quite happy to with us writing about their poor daughter because it kept the search alive."
The McCanns went on to sue Express Newspapers, winning damages of £550,000 and an apology in the high court.
Desmond reiterated that he wasn't trying to "minimise" the McCann coverage, but added: "If there were 102 articles on the McCanns, and 38 bad ones, you could argue that there were 68 or 70 good ones".
Appearing earlier today, Daily Express editor Hugh Whittow blamed the PCC's handling of the McCann coverage for Express Newspaper's decision to leave, claiming that it "should have intervened" to prevent the newspaper from printing defamatory stories.
Elsewhere is his testimony, Desmond hit out at News International, the Daily Mail, and the inquiry itself, which he called "probably the worst thing to happen to newspapers in my lifetime".
He called for News International to be prosecuted for phone hacking: "These companies committed criminal acts and should be prosecuted. Hacking is illegal, why are these people still walking the streets."
And he called the Daily Mail "Britain's worst enemy", "negative and disgusting", and "the Daily Malicious", and its editor Paul Dacre "the fat butcher".
Desmond launched Express Newspapers parent company Northern & Shell in 1974, acquiring the Daily Express, Sunday Express and Daily Star in 2000 and launching the Daily Star Sunday in 2002.
He told the inquiry that he had "felt bad, in a personal way" for Tony Blair about the decision to return the Express to backing the Conservative party after supporting Blair in 1997.
He said Blair was "his mate" and a "nice fellow", but that he had left the decision to editor Peter Hill and generally did not interfere with the editorial stance of the newspaper.
"I am an advertising man, not an editorial man," he said.
Desmond said he had no intention to increase his stake in the newspaper business if opportunities arose to buy other titles.
"Definitely not. Tough, tough, tough business."