Scottish comedian Frankie Boyle has been axed by Channel 4 following a string of complaints about his television show.
The station has pulled the plug on the second series of Boyle's sketch show Tramadol Nights, as well as a planned chat show starring the comic.
The pilot episode of the chat show, called Frankie Boyle's Rehabilitation Programme, was filmed last year but the channel will not proceed with it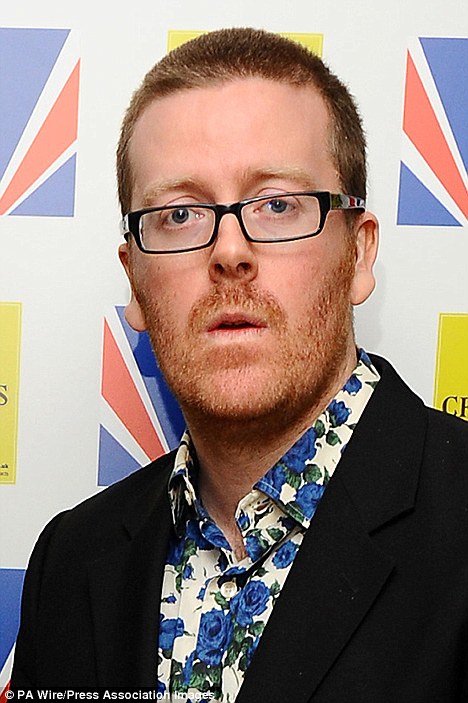 Outspoken: Frankie Boyle has been axed by Channel 4 following a string of complaints about his television show
However, the Glaswegian comic claims he is 'relieved' and said he has 'no regrets' about the decision to cancel Tramadol Nights.
The 39-year-old said: 'I was really happy with it, but you can see why they didn't want to recommission something that was getting them front-page hatred, and I was a bit relieved.
A six-week panel show takes six weeks to make. Because I was involved from storyboard to editing, Tramadol took over six months, and loads of that was late nights and six-day weeks.'
The Tramadol Nights series prompted more than 500 complaints from the public after the comedian made controversial remarks last year about model Katie Price's disabled son Harvey.
The star ridiculed Harvey – who is blind, severely autistic and has mobility problems – and Boyle's comments caused widespread public outrage.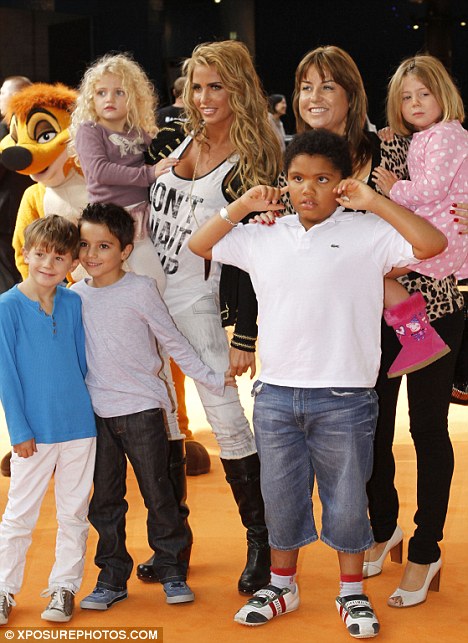 Insensitive: Frankie was criticised for making fun of Katie Price's son Harvey
Channel 4 said the comic's comments had been approved for transmission at the time.
Boyle's lack of apology was criticised by Westminster's culture, media and sport select committee, which said: 'When it is found to have gone too far, it is important that Channel 4 makes, and is seen to make, a full apology.'
The charity Mencap – which campaigns for people with learning disabilities – called for Boyle to be sacked, describing his joke as a 'disgusting' attack.
Ofcom, the broadcasting watchdog, also ruled his remarks as 'highly offensive'.
A Channel 4 spokesman said Boyle's series would be a 'one-off' and no further episodes would be commissioned.
He added that a 'non-transmittable pilot' of Boyle's chat show had been filmed but there were no plans to turn it into a full series.
The unscreened venture was to have featured Boyle being 'confronted by celebrities and members of the public who try to change his uncompromising world view in a series of funny, informed debates'.
Speaking last year, Channel 4 head of comedy Shane Allen said: 'It's very much like Parkinson or Wogan, but with paedo jokes.
'It's him in a studio, riffing off the audience a bit, with some people challenging what he says.'
Boyle has said he will use his prepared material for the cancelled show elsewhere.
He said: 'I put a couple of quite long sketch ideas for the second series into my new book. I wrote them up in a couple of days and went back and tweaked them every time I thought something was funny. It was a lot more fun than filming the f***ing things and getting them past lawyers.'
The decision to axe Boyle comes after he sparked fury earlier this month for making a joke about the McCann family.
Asked if he was following the Leveson inquiry into media standards, the comic replied: 'Yeah, I saw the McCanns on there and really wanted them to go, "Could you round it up in the next few minutes, mate? We've left the kids over in Starbucks".
'Just to show they can still have a bit of a laugh,' he added.
He also joked about missing Madeleine McCann in 2010, when he said that part of Gerry McCann must have been 'pleased' his daughter went missing so 'he could use her bedroom as a pool room'.
A Scottish Tory spokesman said earlier this month: 'Most right-thinking people will be appalled by these remarks. This is just the latest in a series of ill-judged comments from this particular comedian – a sure sign he is running out of anything genuinely funny to say.'
Tommy Sheppard, founder and co-owner of The Stand comedy clubs in Edinburgh and Glasgow said Channel 4 had made the wrong decision to axe Boyle.
He added: 'It looks as if, for all their supposedly radical, liberal traditions, Channel 4 has knuckled down to the celebrity culture that seems to permeate society at that moment.
'Late-night programmes and minority channel programmes used to provide a platform for more controversial stuff and it is worrying that the wings of that are being clipped.
'We need humour which explores the dark side of life, otherwise we reduce comedy to the contents of a Christmas cracker, a horrendous proposition.