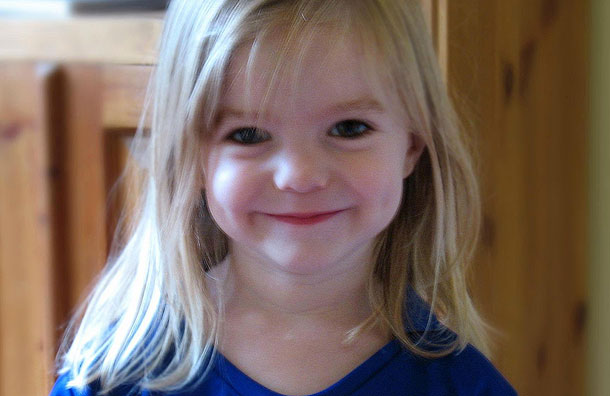 Madeleine McCann (Pic:PA)
The search for Madeleine McCann has cost £2.5million so far, the Mirror can reveal.
The cash has been spent on advertising campaigns and private investigators working to find the little girl, who vanished aged four from a holiday apartment in Portugal in May 2007.
Parents Kate and Gerry set up the Find Madeleine fund and were initially swamped with donations from across the world from people touched by their desperate plight
But the offers of money have slowed to a trickle over the past two years - at one point almost leaving the fund empty.
According to company accounts filed yesterday, there was just £125,000 left at the end of the last financial year. They spent almost half a million pounds in the previous 12 months on the search for Madeleine, who would now be eight years old.
The fund, run by a group of directors including the McCanns, recorded an operating loss of £344,859 - up by more than 50% on the previous year.
Their report, lodged with Companies House, reveals the true extent of their money troubles in early 2011. It states: "Over the financial year the costs of the search continued to be higher than the fund's annual income.
"Income, particularly donations, has been lower than in previous years as might be expected. It became apparent that without a significant financial boost, the fund would be empty by the end of Spring 2011."
That financial warning was behind Kate's decision to write 'Madeleine', a book about the youngster's disappearance and their search for her. The book was published last May and has since raised hundreds of thousands of pounds to boost the fund.
The McCanns' search has been helped by the decision of Scotland Yard to conduct a review of her disappearance.
In August, detectives made their first of three visits to Portugal for talks with the officers involved in the original inquiry. Officers working on the review are being led by Detective Chief Inspector Andy Redwood, who took part in the Spanish talks.
They are understood to be probing eight "very important" new leads after meeting private investigators in Spain last month.
Madeleine disappeared from a two-bedroom holiday apartment in Praia da Luz on May 3, 2007.