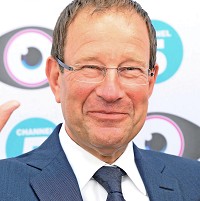 Richard Desmond criticised the PCC over the McCann coverage when he gave evidence to the Leveson Inquiry
The owner of the Daily Express and Daily Star has said that his newspapers were "scapegoated" for their coverage of Madeleine McCann's disappearance.
Richard Desmond told the Leveson Inquiry that his titles were "the only honest ones and straightforward ones" for the way they printed a front-page apology to the missing girl's parents and paid them £550,000 in a libel settlement.
He hit out at a former head of the Press Complaints Commission (PCC) for criticising Daily Express editor Peter Hill over the paper's reporting of the case in more than 100 articles.
"Every paper was doing the same thing, which is why every paper or most papers paid money to the McCanns. Only we were scapegoated by the ex-chairman of the PCC," he said.
Mr Desmond, who bought Express Newspapers in 2000, apologised to Kate and Gerry McCann, adding: "Nothing would give me greater pleasure than to find Madeleine."
He told the inquiry into press standards that other newspapers also printed negative stories about the couple.
"At the end of the day all the others were doing the same, plus or minus, and basically I saw it as we were the only honest ones and straightforward ones," he said.
"We stood up and said 'Yes, we got it wrong, there's the money for the marketing fund, let's try and find McCann, the poor little girl, let's put it on the front page and apologise properly'."
He added: "Yet the ex-chairman (of the PCC) and his cronies thought 'We'll hang out Peter Hill and the Daily Express'. They should have all stood up and said 'You know what, we've all wronged, let's all bung in £500,000 each'.
"If there were 102 articles on the McCanns, there were 38 bad ones but you could argue there were 65 or 70 good ones."
Copyright © 2012 The Press Association. All rights reserved.