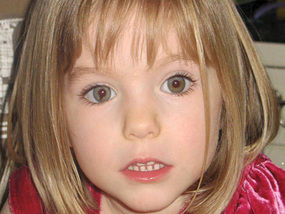 Madeleine McCann disappeared five years ago
SCOTLAND YARD detectives are poised to interview the so-called Tapas Seven as their inquiry into the disappearance of Madeleine McCann steps up a gear.
The friends of Kate and Gerry McCann, who accompanied them on their holiday to Portugal almost five years ago, are expecting interview requests as soon as officers feel they could assist the investigation.
So far, the Yard's Maddie Squad has been concentrating on analysing every scrap of evidence in the case from files supplied by Leicestershire police, ­Portuguese detectives and Metodo 3, the Barcelona-based private investig­ators hired by the McCanns.
Officers have flown to Portugal three times and visited Spain twice.
With much of the analysis over, Detective Chief Inspector Andy Redwood wants to put his team of three detective chief inspectors, five detective sergeants and 19 detective constables to good use.
They are being supported by six civilian staff and three officers from the specialist murder review group, bringing the total number on the team to 37.
"We are not at the stage of speaking to individuals yet. We are laying the groundwork"

A Yard spokesman
By April the cost of the inquiry will be £1.9million but it is thought that figure could double with the "investigative review" going into next year.
After nine months of information gathering, officers are checking statements from key witnesses.
They include the Tapas Seven, so called because they were eating at a tapas bar with Kate and Gerry at the time Madeleine disappeared.
In some cases the Yard officers have asked for documents to be retranslated from ­Portuguese to English so that they are absolutely sure of what was said and meant.
One theory they are examining is that if someone abducted Madeleine they could have had a copy of the key for the holiday apartment at the Ocean Club in the Algarve resort of Praia da Luz.
The Sunday Express has learned that the Tapas Seven "fully expect" to be asked to go over the statements they made to Portuguese officers shortly after Madeleine vanished on May 3, 2007.
They were also interviewed by Leicestershire detectives, with Portuguese officers in attendance, when they arrived home.
The most significant witness is mother-of-two Jane Tanner, partner of doctor Russell O'Brien, who said she saw a man carrying a child resembling Madeleine some time after 9pm.
Another key witness is Matthew Oldfield, who went to the apartment to check on Madeleine and twins Sean and Amelie, who celebrated their seventh birthdays last week.
Mr Oldfield saw the twins in their cot but did not push the door open wide enough to see Madeleine, although he was happy all was well.
All the Tapas Seven fully support the Yard's review of the case and hope it will provide a breakthrough.
Other members of the group include Mr Oldfield's wife Rachael, David and Fiona Payne and her mother Dianne Webster.
A Yard spokesman declined to say who would be interviewed and when. "We are not going into that level of details," he said. "We are not at the stage of speaking to individuals yet. We are laying the groundwork."
The McCanns' spokesman Clarence Mitchell said they and their friends would do everything to assist attempts to discover what happened to Madeleine.