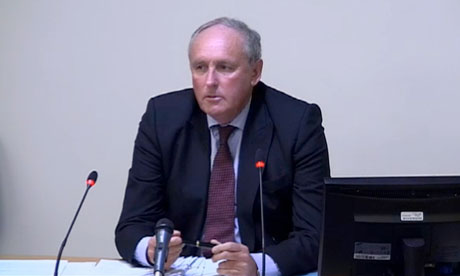 Leveson inquiry: Daily Mail editor Paul Dacre has been giving evidence
2.27pm: Paul Dacre, editor-in-chief of the Daily Mail, has taken the stand.
2.30pm: Dacre is the longest-serving editor on Fleet Street and chairman of the PCC editors' code of conduct committee. He has been editor of the Daily Mail since 1992 and editor-in-chief of Associated Newspapers since 1998.
4.25pm: Jay asks Dacre about the Daily Mail's coverage of the disappearance of Madeleine McCann.
Dacre is asked if the Daily Mail refused to publish an apology because supportive articles outnumbered the harmful ones. Dacre says he does not know.
Jonathan Caplan QC, counsel for Associated Newspapers, intervenes to say that the legal settlement was agreed between the McCanns and the publisher.
4.26pm: Dacre says that the McCanns complaining to the PCC would have "nipped things in the bud" earlier.
"The Mail's reporting of the McCan story was much more responsible that most papers. I can't say any more than that," he adds.
Newspapers felt they had the "green light" to write what they liked about the McCanns after the couple employed a public relations adviser, Dacre says.
The McCann story was one of the few examples of a story that boosted sales, says Dacre. He says, with hindsight, he is glad the Mail didn't splash on it too much.