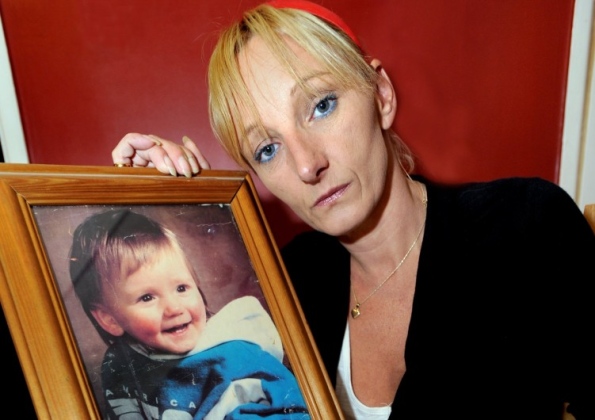 Still searching: Mum Kerry Needham with a photo of son Ben as a baby.
A NEW song written to raise the profile of the hunt for missing Ben Needham has been launched to the public worldwide.
A Song for Ben was written, composed and sung by Tyne and Wear-based Nigel Graham, who has also written other songs for missing people including Madeline McCann.
Sheffield toddler Ben disappeared on Kos in Greece nearly 21 years ago.
The video was put on YouTube on Tuesday and the song is now available to download on iTunes.
VIDEO:
Watch and listen to Nigel Graham's Song For Ben on YouTube - CLICK HERE.
The song is dedicated to Ben and his family's search for him.
The video features family photos of Ben as a youngster along with images of mum Kerry Needham, of Ecclesfield. Artist's impressions of what Ben might look like now are also featured.
Scott Martin, orchestrating the Help Find Ben campaign, said: "The song is available on iTunes and the other usual music download sites.
"Kerry is delighted with it and says it has been moving her to tears everytime she watches it. She just wants people to watch the clip and share it with as many as possible, increasing the chances of Ben seeing it himself.
"I am very happy Nigel has taken the time to do this. I know it will help raise more much-needed awareness for Ben's story around the world.
"We hope this song will even reach Ben himself and get him to ask the questions about himself he may not have thought to ask before. We believe Ben is still out there somewhere and that we will find him."
Kerry's supporters have taken to social media sites to spread the word about Ben's disappearance.
They hope that the advent of social networking sites used by people around the world will help eventually track Ben down so he can be reunited with his family.
Among celebrities supporting the Twitter campaign are Hollywood star Tom Cruise and Coronation Street actress Kym Marsh.
* At the time of publishing, The Find Ben Facebook page – www.facebook.com/helpfindben – is 'liked' by 13,110 people and the group's Twitter account has 15,515 followers.