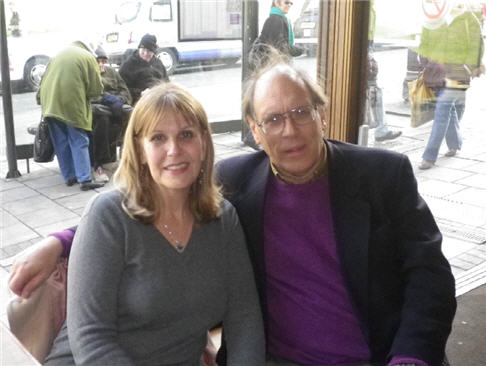 Tony Bennett and Pat Brown 07 Feb 2012
I was able to meet Pat Brown off her plane at 9.30am and we had till 1.00 to have a good exchange of information and ideas on various aspects of the disappearance of Madeleine McCann.
I was able to provide her with a detailed briefing on Phase 1 of the McCanns' private investigation, which included:
* the emergence of Brian Kennedy as both benefactor and director of the McCann Team's private investigations
* the emergence of Brian Kennedy's in-house lawyer as the McCanns' co-ordinating lawyer and Director of the 'Find Madeleine Fund'
* Brian Kennedy's purchase of a house in Knutsford as the long-term base for this investigation into Madeleine's disappearance
* Kennedy's choice of controversial Spanish detective agency Metodo 3 as their preferred organisation to search for Madeleine
* Brian Kennedy's meetings with Robert Murat and his lawyer on 13 November 2007 and his meeting earlier that day with Portuguese Police at Portimao Police Station and with boss of Metodo 3, Francisco Marco, and his No. 1 investigator, convicted criminal Antonio Gimenez Raso
* A biography of Antonio Gimenez Raso charting his decline and fall from...Head of the Anti-Drugs and Anti-Trafficking Unit of Catalonia Regional Police...to resigning from them at the end of 2004...to being appointed as a Metodo 3 private investigator in 2005...to being appointed as the leading Metodo 3 private detective investigating Madeleine's disappearance in 2007...to meetings with Brian Kennedy in Morocco...to meeting with strange Madeira lawyer Marcos Aragoa Correia at the Arade Dam on 10 December 2007...to his arrest on charges of corruption in public office and theft, together with a gang of drug-dealers, of £25 million of cocaine from a boat in Barcelona harbour in 2004...to his current 18-year jail sentence.
And I pointed out that after they lost the services of Antonio Gimenez Raso, they turned to the services of...Kevin Halligen!
Pat briefed me on her plans for Portugal. She was in good spirits.