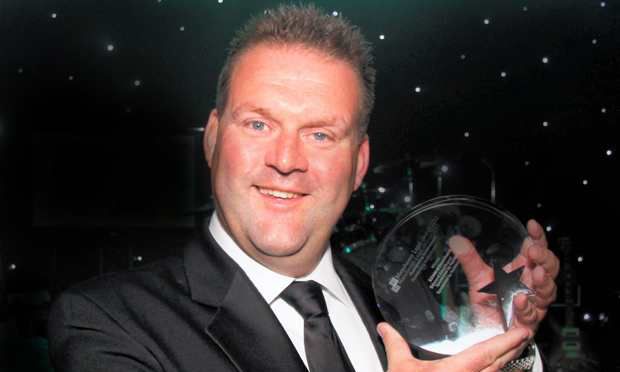 Edward Smethurst
Edward Smethurst today said he was 'humbled' to receive the outstanding achievement accolade at the Manchester Legal Awards.
The entrepreneurial lawyer with an inspiring life story said it was a 'very special' honour.
Thirty years ago, when he was just 13, Edward lost his father in a house fire in Rochdale.
Following the tragedy the teenager, who was being brought up by his dad after his parents separated, had to go and live with his grandparents.
His grandmother died a couple of years later and his grandfather had a stroke, leaving Edward to fend for himself.
After working in a butcher's shop to make ends meet, he defied all the odds to qualify as a lawyer, starting his first job in Manchester, at what became Halliwells, as a commercial litigator.
He later joined the British Nuclear Fuels Limited as an in-house lawyer while also starting his own property investment company. He now owns a portfolio of houses and a number of working farms across Greater Manchester.
Despite the tragedies earlier in his life Edward, who has also chaired the Law Society's Commerce & Industry Group North West for the last 18 years, was sure of one thing: that whatever he put his mind to, he was going to succeed.
His drive and determination and commitment to the legal sector earned the 43-year-old the honour at last week's awards.
Edward said: "After losing my dad, I have come a long way in my life and especially in my career.
"I come from quite a humble background, I've got a strong work ethic and, ultimately my hard beginning in life has been the driving force behind my success.
"To receive the award at a relatively young age of 43 is very humbling.
"It was a total surprise and very very special, particularly as it was voted on by the members of the Manchester Law Society."
Edward is also committed to his charitable work.
He is a fund-raising ambassador for Cancer Research and has played a key role in Kate and Gerry McCann's quest to find their daughter, Madeleine.
He is the family's legal co-ordinator and chairs the Madeleine's Trust – No Stone Left Unturned company.
Edward is the chairman and founder of Palladium Associates, a risk consultancy business whose clients include Barclays, Bank of Ireland and Eversheds.
He is also the chairman of Prosperity International Sports Management, which represents footballers, both national and international, as well as Olympic athletes.
As well as running those businesses, which he launched in Rochdale's Ashworth Valley district two years ago, he acts as their in-house lawyer.
He said: "In-house lawyers represent at least 20 per cent of the profession. I started my career as an in-house lawyer at BNFL before joining the Latium Group, where I worked with Brian Kennedy and still represent him."
As for the future, Edward has no plans to slow down.
"I want to carry on developing Palladium and Prosperity. For me it's not all about money - it's about trying to do the best that you can."