The night of Madeleine McCann's disappearance, May 3, has been subject to claim, counter-claim, conjecture and scurrilous rumour.
· Madeleine McCann DNA 100 per cent match
Today The Daily Telegraph pieces together the known facts about the fateful night, as reported by the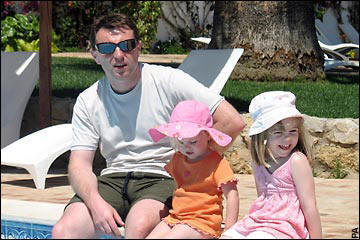 The final picture, 2.29pm, May 3: Madeleine [right] enjoys the
sunshine with her father Gerry and younger sister Amelie
McCanns themselves and key witnesses.
2:29pm The last picture of Madeleine was taken at the swimming pool at the Ocean Club resort in Praia da Luz, where the McCanns and the three other families with whom they were staying played together.
7:00pm Madeleine and the other children were put to bed. Reports of when she was last seen before this vary, with some accounts putting it as early as 6pm. This would be crucial as the police might put forward a theory that the McCanns killed Madeleine and hid her body before they went for dinner.
8:30pm Around this time, witnesses agree, the McCanns arrived at the tapas bar near their apartment, meaning there was a "window of opportunity" of up to 2hrs 40 mins for them to kill Madeleine and hide her body - a scenario dismissed as "ludicrous" by their family.
The couple then settled down to dinner and take part in a quiz organised by the Ocean Club's aerobics teacher, Najova Chekaya.
The McCanns say checks were made on their children every half-hour, sometimes by other members of the party, comprising Dr Russell O'Brien and Jane Tanner, from Exeter, Dr Matthew and Rachael Oldfield, from London, and David and Fiona Payne, from Leicester, together with Mrs Payne's mother Dianne Webster.
Yet Mrs Webster has reportedly told police that each couple was responsible for checking their own children.
9:05pm Gerry McCann left the table to check on his children, who were all sleeping soundly, he says. Returning, he bumped into another British tourist, Jeremy Wilkins, with whom he had played tennis.
They chatted for several minutes, as Mr Wilkins has confirmed.
9:15pm Jane Tanner told police that at this time she went to check on her daughter, who was ill, and recalled seeing Mr McCann talking to Mr Wilkins. As she went into the apartment, she saw a man aged around 35 carrying a little girl wrapped in a blanket.
She thought nothing of it but is now convinced this was the kidnapper. The child's pyjamas matched the description of those Madeleine was wearing. Mr Wilkins apparently saw no such man, and does not remember seeing Miss Tanner. He has told police: "It was a very narrow path and I think it would have been almost impossible for anyone to walk by without me noticing."
9:30pm Dr Matthew Oldfield left the table and offered to check the McCann children. In his first police statement he said he merely listened at the door of apartment 5a but later said he had gone in and noticed that the room seemed lighter than the others, as if the shutters had been opened. He cannot be certain whether Madeleine was there.
Gerry McCann invited Miss Chekaya to join the party at 9.30. Her account apparently contradicts Mr Oldfield, as she claims that no one left or returned to the table in the half-hour she was there.
10:00pm Kate McCann left the table at this time. One tapas bar worker has even claimed that only one person left the table during the evening, a tall man thought to be Dr O'Brien.
There are also conflicting accounts of how much the party drank. One Portuguese newspaper claimed the nine friends downed 14 bottles of wine. The McCanns insist they drank three or four.
Kate McCann ran back to the restaurant at 10pm, saying Madeleine was missing.
10:14pm Police were called after the friends made an initial search. Detectives are said to be intrigued by one witness report which quoted Kate McCann shouting out: "They've taken her, they've taken her!"
They believe her immediate assertion that Madeleine had been snatched - and the implication that it was by more than one person - is suspicious.
But other accounts have claimed Mrs McCann in fact said: "Madeleine has gone. Somebody has taken her."