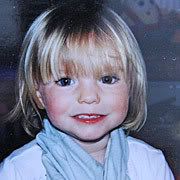 Still missing: A new picture of Maddy McCann, aged two
DETECTIVES want to stage a Crimewatch-style reconstruction of the vital hours before Madeleine McCann vanished.

It is hoped the move will lead to a crucial breakthrough in the long-running investigation.

Police are even preparing to ask the toddler's parents, Kate and Gerry, to return to the Algarve and take part in the reconstruction along with seven members of their holiday group.

Any reconstruction would be the first time the events of May 3 have been re-enacted by key witnesses.
The development comes hours after the McCanns launched a publicity fightback against the tide of public opinion moving against them following accusations by the Por­tuguese police.

The couple have sanctioned ­the spending of £80,000 on a Europe-wide advertising campaign to find their daughter.
Madeleine's face is to feature on television, billboard and newspaper adverts across the continent.

In a bid to solve the mystery of the four-year-old's disappearance, detectives in Portugal want her parents to return to the Ocean Club resort in and pinpoint exactly where they were at certain times during the day.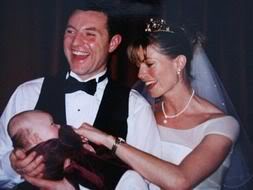 Happier times: The McCanns at their wedding
The McCanns were the last people to see the toddler before she was discovered missing and have now been made official suspects in the case.

Heart specialist Gerry and GP Kate vehemently deny any involvement in Madeleine's disappearance.

To stage a reconstruction of events the police would need formally to request several other witnesses to return to Praia da Luz to play out what happened. But critics fear that any reconstruction would be hampered by intense media interest in the case.

Another concern is the timing of the idea, which comes 136 days after Madeleine vanished.

Due to Portugal's strict secrecy laws nobody who has given a statement in the inquiry has been allowed to speak about the night.

It has been claimed that several contradictions have emerged in statements given by the McCanns' party, including exactly how long people were away from the table where they were dining.

A police source last night admitted there were concerns about whether it would even be possible to get everyone involved that night to return to the scene at the same time.

He said: "It is something that we are considering but it is difficult to bring everyone who was there that night back to Portugal. You also have to rely on people remembering where exactly they were."

In the past, Portuguese police have declined any offer made by the BBC to film a reconstruction for its successful Crimewatch programme.

But last night it was claimed that police have seized the McCanns' mobile phone records and can now accurately trace where calls were made from on the night Madeleine disappeared.

Gerry's brother John McCann yesterday spoke about the new advertising campaign and urged people not to forget that Madeleine was still missing.

He said: "I hope that the general public will continue to support us in this. It is so important that we remember 'Don't you forget about me' and our lovely wee Madeleine."

John, a director of the Madeleine Fund, went on: "The adverts will focus on Spain, Portugal and other parts of Europe and will consist of billboards and other media."

Since arriving back home in Rothley, Leics, a week ago, Kate and Gerry, both 39, have being trying to create some normality for their two-year-old twins Sean and Amelie.

Family spokesperson Natalie Orringe said: "Kate and Gerry are trying to take stock of the situation and prepare for next week.

"They have had a series of ­meetings with media and legal advisers who are assessing how best to advise them. There is a lot of hard work to do.

"They are bearing up well despite the intense media interest in them. They are grateful for people's generosity and support."

Kate and Gerry, who face returning to Portugal for further police questioning or to be charged, have not yet had "any formal approach" from the authorities.

Natalie said: "They need a period of calm and time at home with the twins. They will only return to Portugal if requested to do so. They are not avoiding reading the papers and they find the speculation very disturbing and upsetting.

"The pressure on the family is so intense and they are really feeling it now. They are appealing for media calm."

She added: "Crates of letters have turned up at the village post office – 500 to 1,000 a day. They are written directly to Kate and Gerry and most offer support. Many come from people who say they wouldn't normally write but feel moved to do so.

"There are also gifts, cash and offers of financial support. There are a few crank letters. Some people use this as an opportunity to attack Kate and Gerry, but most are positive."

The McCanns were visited by social workers this week to discuss the twins' welfare.

Natalie said: "Because they are official suspects it was a matter of routine. Gerry made the meeting happen, he contacted them and asked them to come round. The visit went well."

A family source added: "The social workers went away quite happy. Everything's fine."

The family is believed to have received generous offers from several mystery benefactors offering to pay for their escalating legal fees.

Money from the Madeleine Fund cannot be used to meet the bill.

Kate and Gerry have yet to decide if fresh handouts can be used for their legal expenses. Natalie said: "No decision has been made yet if there is to be a separate fund."