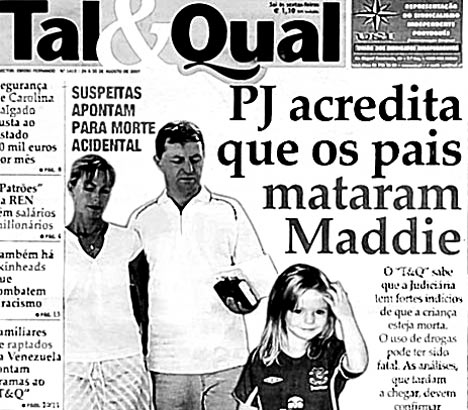 Portuguese news weekly Tal & Qual.
The mother of Madeleine McCann marked a heartbreaking milestone last night with the vow: "We will never give up."

The 39-year-old GP revealed her torment four months after her daughter's disappearance in Portugal on May 3.

Kate and heart specialist husband Gerry, also 39, struggle to keep their spirits up by constantly reassuring each other: "Today could be the day Madeleine comes home."

But she confessed that the shock of losing the four-year-old had ripped the heart out of her family.

As they wait for news and suffer unimaginable heartache, they also know that fears are growing that Madeleine is dead. Kate said: "It is four months since Madeleine was cruelly taken from her family.

"Four months since Gerry and I have heard our daughter laugh, seen her smile, read her a story, given her a cuddle.

"Four months of not knowing what our beautiful daughter has had to endure.

"Four months since that cold night when our world fell apart."

Commenting on the rumours that Madeleine has been killed, Kate went on: "I know many people think our daughter can't be alive. But nothing has changed our thoughts.

"We believe Madeleine was taken from her bed and was alive when she was taken.

"We don't know who took her, why she was taken or where she is. As parents we cannot give up on our daughter until we know what has happened.

"We have to keep doing everything we can to find her."

Kate revealed how she and Gerry help each other to remain positive despite their desperate 123-day wait for a breakthrough in the search.

She said: "Each day Gerry and I get up and say, 'Today could be the day Madeleine comes home'. We have to keep hoping.

"We will leave no stone unturned to find our lovely little girl Madeleine."

Portuguese detectives hunting for Madeleine are still waiting for the results of tests on DNA samples taken from the McCanns' holiday apartment at Praia da Luz, in the Algarve. The DNA, including at least two samples from microscopic traces of blood found in Madeleine's room and her parents' bedroom, was sent to experts at Britain's Forensic Science Service laboratory in Birmingham nearly four weeks ago.

Police are hoping that the results can provide a decisive breakthrough in the investigation, which appears to be relying on the new forensic information to kick-start the stalled search.

Expatriate Briton Robert Murat, a former estate agent from Hockering in Norfolk whose home in Praia da Luz is a short walk from the McCanns' holiday apartment, remains the only official suspect in the case.

His friends are confident that the scientific evidence will prove his alibi that he was never in the McCanns' apartment.

He joined the search for their daughter the day after she was snatched.

In a sign that the Portuguese police are setting great store by the results of the tests, the McCanns were reported to have been asked to remain in Praia da Luz until the new information has been studied.

Despite the request, speculation is growing that the family is making preparations to return to their home in Rothley in Leicestershire.

The McCanns refuse to say when they are likely to leave Portugal but friends and neighbours back in Britain believe the couple will return with their two-year-old twins Sean and Amelie within weeks. Family friends said that Kate and Gerry have been persuaded to move back to their £600,000 home for the sake of the twins and to avoid the hostile media reports that have dogged them recently in Portugal.
The vicious campaign of slurs and lies culminated in the McCanns being forced to issue a writ for defamation last week against the sensationalist Portuguese news weekly Tal & Qual.

They instructed lawyer Carlos Pinto de Abreu to launch the libel action after the newspaper ran an article, citing an anonymous police source, claiming that Madeleine died after being given an overdose of sedatives by her parents.