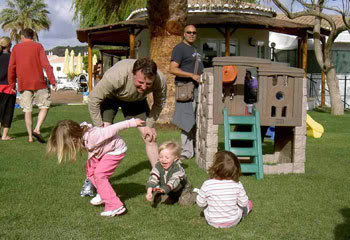 Observer ... the mystery man appears in the background watching Gerry McCann playing with Madeleine. The photo was taken by Kate McCann.
AN innocent holiday snap of a family playing with their father has drawn a mystery man into the Madeleine McCann disappearance.

It has also sparked police moves to take formal statements from anybody who may have had anything to do with the McCann family during their ill-fated stay in Portugal.

The broad, bald man appeared in a photo taken by Mrs McCann as Madeleine played with her father Gerry and two-year-old twins Sean and Amelie shortly before her disappearance.

Strangely, the man was again seen walking behind Briton Robert Murat who was a suspect in the case early in the investigation.

Police would say little about the photographed man other than to confirm he has been identified and spoken to, as would a large number of others in coming days. They refused to say how or why he appears to have been everywhere that involved the McCanns.

Meanwhile, Kate McCann could be re-interviewed on the orders of a judge as police struggle to gather enough evidence to charge her, it emerged yesterday.

Investigating judge Pedro dos Anjos Frias is expected to order Madeleine's mother back to Portugal for a fresh grilling over the accusation she accidentally killed the little girl and then mounted an elaborate cover-up with her husband Gerry.

Detectives failed to extract a confession from the couple in two days of heated confrontations in Portugal, and police fear their case may founder without one.

The embattled McCanns have challenged officers to come up with a body or abandon their campaign to "frame" them.

Police also said they would speak again to numerous witnesses including an English sailor who owns a yacht in the port of Lagos just east of Luz. One police theory is that Madeleine's body was dumped at sea from a yacht.

Friends of the McCanns who were with them on the night the four-year-old disappeared on May 3, and Mr Murat, are also about to be re-interviewed over conflicting stories.

Those to be spoken to include friend Jane Turner, who told police she saw an unknown man carrying a child in a blanket through Praia da Luz 30 minutes before Kate McCann discovered her daughter missing, and her partner Russell O'Brien who said he saw Robert Murat outside the McCann apartment.

Chief Inspector Olegario Sousa said detectives believed more than one person was involved in the disappearance of Madeleine and more suspects would emerge once further DNA test results were received.

Police are also seeing if there are any connections between Mr Murat and Mr McCann with some suggestions the pair knew each other from Leicestershire.