A furious Gerry McCann has explained exactly why he and his wife Kate are suing a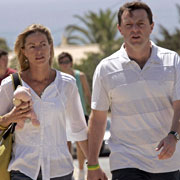 Parents were offended by article
Portuguese newspaper over "lurid allegations" about their missing daughter Madeleine.

The Tal & Qual newspaper published a front-page headline suggesting that Portuguese police think the McCanns killed the four-year-old.

The couple have now instructed their lawyers to take action against the newspaper for defamation over the story it printed on August 24.

Explaining their decision, Mr McCann said: "As well as damaging our personal and professional reputations, such allegations smear the investigation, the campaign to find Madeleine and cause great offence and anxiety to all our family.

"This is why, after careful consideration, we have issued a writ against the newspaper for defamation.

"Our focus has, and always will be, on doing our best to help find Madeleine.

"This lurid allegation is so serious and wide of the mark that we feel it cannot go unchallenged."

They couple have always said they would not jeopardise the investigation by talking too much about it in public.

But Mr McCann admitted they found it difficult to keep quiet in the face of slurs about their behaviour on the night Madeleine disappeared.

The McCanns were so angry at the Tal & Qual story they felt they had no choice but to take legal action.

"We firmly believe that the report was speculative, defamatory and published despite official statements to the contrary," Madeleine's father wrote on his blog.

He confirmed the legal expenses for the case will not be paid for out of the Madeleine fund.