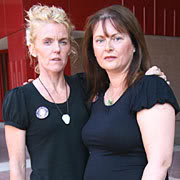 Nicky Gill (L) and Linda McQueen

Two of Kate McCann's closest friends have come to her defence, dismissing claims she or husband Gerry had any involvement in their daughter Madeleine's disappearance.

Linda McQueen, 45, and Nicky Gill, 39, praised her as a devoted mother.

The pair, who have known Kate since childhood, travelled to London specifically to defend their friend against allegations surrounding her character.

Formal suspects in the search for their first born, Kate and Gerry McCann were also visited by representatives from Leicestershire social services to discuss the welfare of their twins.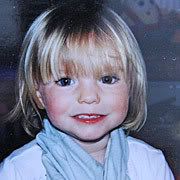 Still missing: Madeleine McCann

Mrs McQueen categorically denied the pair could have harmed Madeleine in any way, describing them as "the most loving, caring, family-oriented couple that you could ever meet".

Asked if she had ever questioned her friend's innocence for a second, she said: "No, not at all, not a shadow of a doubt from anybody at all ever."

Both were desperate to describe the Kate they know, and have been friends with for decades.

Ms Gill said some of the recent media coverage have served to mislead the public.

"To have these words said about her is just so unfair and hurtful. They just do not deserve it whatsoever."

"I want people to know who Kate is and what she is like," she said.