KATE and Gerry McCann were stunned yesterday at the latest police claim about missing Madeleine – that they buried her during a "missing two hours" while putting up posters in Spain.
A furious pal said as the outrageous theory emerged: "Kate and Gerry have had enough.
"Underneath all this rubbish are horrible accusations and rumours.
"There are sightings of Madeleine which they want properly investigated."

Kate and Gerry – shattered that a girl thought to be Maddie in Morocco turned out not to be the four-year-old – urged police to get on with finding their daughter.
The couple – both doctors aged 39 – were incensed that it took The Sun to discover that the blonde tot photographed by a tourist was the daughter of a local farmer.
Face recognition experts yesterday said they were amazed police in Portugal – where Maddie vanished on May 3 – never followed up the lead. They described the girl in the photo as "highly similar" to her.
David McIntosh, of Omni-perception, said: "I would have expected police to have been on the first plane out – there were enough scientific matches between the photo and Madeleine."
Yesterday it emerged Portuguese detectives are working on the bizarre theory that the McCanns hid their daughter's body in their hire car THREE MONTHS after she was reported missing.
On August 3, the couple drove from the fateful Algarve resort of Praia da Luz across the border to the Spanish town of Huelva to put up posters. With them were Gerry's brother John and a cameraman hired to take footage for the website findmadeleine.com.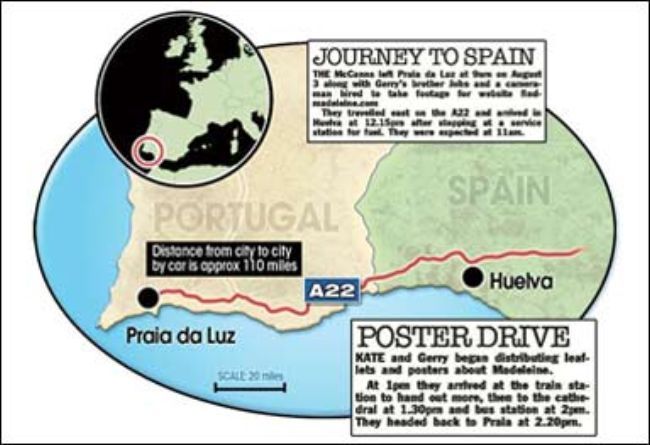 Long drive ... Portugal to Spain
Once in Spain, the couple were followed around by an army of media. Despite this, police are focusing on what they claim was a "missing two hours". They are investigating the possibility Gerry and Kate either buried the body then – or returned to the site of a grave they made earlier.
It is the latest in a string of controversial theories by the Portuguese – many of which have been discredited. To bolster their latest idea – leaked to one of the country's newspapers – police say it was: SUSPICIOUS the trip was postponed from the day before – because Gerry had intestinal problems.
"STRANGE" that the couple, from Rothley, Leics, chose to visit Spain on a national holiday when shops were shut.
MYSTERIOUS that the McCanns racked up "unjustified mileage" in their Renault Scenic – hired 25 days after Maddie disappeared.
Police are awaiting further tests on the car – in which they claim to have already found DNA linked to Maddie. They are said to have met with Spanish counterparts to study CCTV showing the motor travelling in "places without reason."
Yesterday Clarence Mitchell, spokesman for the McCanns, insisted: "The trip to Huelva was organised on behalf of the Find Madeleine campaign. It was conducted in the full glare of journalists from all over Europe and beyond."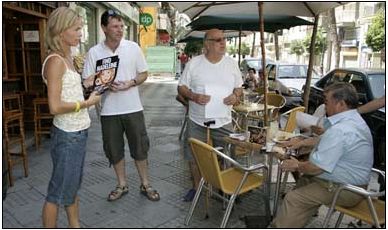 Search for daughter Maddie ... Kate and Gerry McCann
A source close to the McCanns yesterday said the couple had a "new determination" to find their daughter. The insider said: "A new ad campaign due to be revealed in two weeks is aimed at getting the message across – keep searching." Yesterday the couple left their home in Rothley to take their two-year-old twins to nursery. Gerry told supporters: "It is just over two weeks since we returned home from Portugal.
"The major news in that time is that we have not been charged with any offences regarding Madeleine's disappearance. For Kate and I it has been incredibly difficult to come home without Madeleine but particularly in such circumstances."