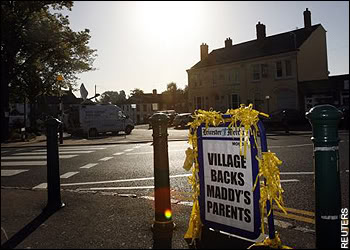 Paper shows support for McCanns in their home town
Police in Portugal are said to be confident that charges would soon be brought against Kate and Gerry McCann after a 1,000-page dossier of evidence was handed to a judge.

Detectives believe they have enough material to justify charging one or both parents with the "accidental" killing of their four-year-old daughter Madeleine and presented their findings to a public prosecutor in Portimao.

In the latest twist, the prosecutor almost immediately passed the file to an "instructional judge" to seek approval for any further action to be taken. This could include charges being brought, or may simply be a request for further searches or more interviews.

Legal experts said the judge is likely to make his decision within 10 days.

A source close to the inquiry said: "The police are confident they have shown the McCanns have a case to answer and they believe charges will now follow."

The McCann family remained defiant, with Gerry's sister Philomena saying that if the couple are charged "it will give them the chance to clear their name".

In other developments

Police prepared to dig up recently-laid roads in the resort town of Praia da Luz to search for Madeleine's body.

• A "substantial amount" of Madeleine's hair was said to have been found in the boot of the McCanns' hire car.

• Sources claimed that forensic evidence pointed to Madeleine's body being hidden in the car's spare wheel well.

• Gerry McCann said his and his wife's suffering was "beyond description".

The public prosecutor, Jose Cunha de Magalhaes e Meneses, may already have decided if the McCanns have a case to answer.

A Portuguese lawyer, Artur Rego, said the speed with which Mr Meneses had passed the 10-volume dossier to the judge made it unlikely that he had recommended charges at this stage.

But, he said, the prosecutor may have prepared the case in advance and was waiting for the final papers before making his recommendations."

It appears increasingly likely that any case is likely to hinge on forensic evidence allegedly found in a Renault Scenic hired by the McCanns 25 days after Madeleine's disappearance.

It was claimed that a large quantity of Madeleine's hair was found under the boot liner, next to the spare wheel, leading police to believe that her body may have been hidden there.

The amount of hair was said to be sufficient to convince police that it could only have got there directly from Madeleine's body, rather than by "secondary transfer" from her clothes or Cuddle Cat toy.

Bodily fluids said to have been found in the car showed signs of decomposition, it is alleged, leading police to believe that Madeleine is dead.

There were also reports that toxicology tests on the samples in the car may have led to the suspicion that Madeleine was drugged and speculation that she may have been accidentally given an overdose of a sedative.

As official suspects, the McCanns are prevented by Portuguese law from speaking out in their own defence but have dismissed as "ludicrous" the suggestion that they could be to blame for Madeleine's disappearance.


Extensive roadworks near the McCanns' holiday apartment could be dug up in search for body
Their supporters have pointed out that they had neither the motive nor the opportunity to kill Madeleine or hide her body. They say that the police hypothesis that they hid her body for 25 days before transporting it in the car under the noses of the world's media is plainly impossible.

Portuguese police are understood to have eliminated as suspects every other driver who hired the Renault between May 3 and May 28, when the McCanns rented it from Budget.

Writing on his internet blog on the Find Madeleine campaign's website, Gerry McCann said: "The pain and turmoil we have experienced in this last week is totally beyond description. Kate and I are totally 100 per cent confident in each other's innocence and our family and friends have rallied round unflinchingly to support us."

Police in Praia da Luz said they had been put on standby to dig up roadworks filled in shortly after Madeleine went missing as part of a fresh search for a body.

Several roads within a short walk of the McCanns' Ocean Club apartment had been dug up at the time of their holiday. When Madeleine vanished there was speculation that she could have wandered off and fallen into a hole, or that an abductor could have disposed of her body in the roadworks.

The McCanns spent the day at home in Rothley, Leics, choosing not to attend a service at their local Catholic church in which prayers were said for Madeleine.