They are the key witnesses to Madeleine's disappearance - the friends of Kate and Gerry McCann who could help unlock the mystery of what happened that fateful night.
But despite their knowledge they have strangely said virtually nothing in four months.
As the McCanns embarked on a global publicity campaign to find their daughter, the group of friends closest to the couple - and who were dining with them on May 3 when Madeleine vanished - were reluctant to talk.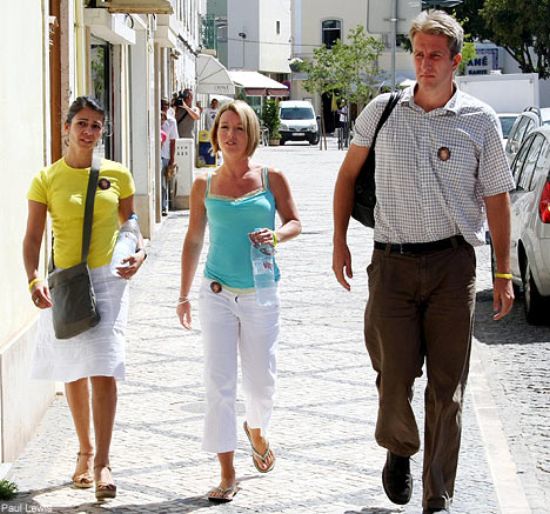 SILENT: Rachael Oldfield, Dr Fiona Payne and Dr Russell O'Brien, who were with the McCanns in Portugal
That was only too evident when there was a report that a female member of the close-knit group might have seen Madeleine being carried away from the family's holiday apartment.
It was said the witness had become racked with guilt because, thinking the toddler was the man's own child, she had made no attempt to stop him.
She reported her sighting to Portuguese detectives but, despite the massive media campaign, refused to talk publicly about what she had seen.
Anxious to confirm the report at the time, The Mail on Sunday asked one of the McCanns' friends, Dr Fiona Payne, for an interview.
Initially she strongly indicated that she was prepared to talk to this newspaper but changed her mind when the McCanns inexplicably advised her against it.
Dr Payne and her husband David, a senior research fellow at Leicester University, and Mrs Payne's mother Dianne Webster had been dining with the McCanns at the tapas bar near their apartment when Madeleine vanished.
The Paynes have two children, but were said to be the only ones in the group using a baby monitor that night.
They were among those who stayed on in the Algarve to support the McCanns for several weeks after Madeleine's disappearance.
Dr Payne has made no ontherecord comments apart from saying people should not attach "any significance" to claims against the McCanns being reported in the Portuguese press.
Dr Russell O'Brien, who also dined with the McCanns that night, has only said that suggestions that Kate and Gerry had been involved were "completely untrue and extremely hurtful".
He is understood to have left the table some time after 9pm to attend to his own daughter, who had become ill with vomiting.
Another member of the McCanns' party, recruitment consultant Rachael Oldfield, has supported the couple and also told people to ignore what they read in Portuguese newspapers.
In the first week of the investigation, a doctor at whose Midlands surgery Kate McCann worked as a part-time locum told The Mail on Sunday he wanted to offer £100,000 for information leading to Madeleine's safe return.
The wealthy GP, who is also a property developer, asked to remain anonymous. He became emotional as he told our reporter that Madeleine's disappearance had reminded him of when his brother's daughter had once gone missing for 20 minutes.
But later he oddly became reluctant to discuss the matter and became hostile towards approaches from this newspaper.
The doctor's wife expressed fears that if his identity was revealed, his wealth might encourage somebody to take their three young daughters hostage for ransom.
She claimed her husband had to take a week off work because his surgery had been besieged by calls from the media.
Yesterday, the doctor and his wife refused to comment on the latest developments in the case.