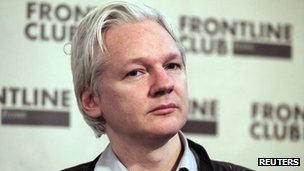 Julian Assange has issued a written statement to the Leveson Inquiry
WikiLeaks founder Julian Assange says he faced inaccurate and negative media coverage on a similar scale to that experienced by Gerry and Kate McCann.
Mr Assange is wanted by the Swedish authorities for questioning over alleged sex offences, which he denies.
He made his media claims in a written statement to the Leveson Inquiry.
The McCanns' daughter Madeleine disappeared in May 2007. Portuguese police investigating the case, briefly named the couple as suspects.
Mr Assange, who remains on conditional bail in the UK, claims the allegations against him are politically motivated.
The 40-year-old Australian also criticised the Press Complaints Commission (PCC) in his statement, for its handling of his complaint into how his case was being reported.
He suggested that inaccurate reporting of his case had an impact on his fight against extradition to Sweden.
Mr Assange is waiting the outcome of his appeal to the Supreme Court, the highest court in the UK, against his potential extradition.
'Press falsehoods'
Mr Assange wrote: "Those who have been the subject of ongoing, widespread inaccurate and negative media coverage - as I have, possibly on a scale not seen since the abuse of the McCanns - know that the harms created for individuals and small organisations or groups by a failure to maintain high ethical journalistic standards can be severe, consequential and almost insurmountable."
Mr Assange said the PCC ruled it was "perfectly acceptable" to say he had been charged with rape, when he has only been accused of the offence.
He added: "The PCC's clear failure to enforce proper standards of accuracy and fairness - indeed, its reluctance to act and to adhere to its own guidelines because of the active case against me - comes at a time when, due to the number of other of our legal cases already in play and my grave personal circumstances under house arrest awaiting a Supreme Court extradition decision, my ability to achieve justice through libel actions at the moment when they are needed is severely curtailed."
He also said that "press falsehoods" must be "disincentivised or they will flourish".
He concluded: "Unfortunately, the Press Complaints Commission does not provide effective disincentives or corrective remedies for victims.
"Neither, in many cases, do the courts due to the expense of libel actions."
The PCC said Mr Assange's complaints relating to the accuracy of articles published by the Sun, Daily Mail and Observer newspapers had been resolved "to the satisfaction of Mr Assange".
"A number of other complaints were found not to raise breaches of the Editors' Code of Practice," it said. The PCC's resolutions have been published on its website.
The PCC last month confirmed it would close before Lord Justice Leveson produced his report into press standards.
The commission will be replaced by a transitional body until a new system of press regulation is established.