The detective leading the UK review of Madeleine McCann's disappearance says they have the "best opportunity" yet to find the missing girl.
Det Ch Insp Andy Redwood told the BBC's Panorama his team were "seeking to bring closure to the case".
Madeleine, aged three at the time, went missing from a Portuguese holiday apartment five years ago this week.

The UK review began last May after Prime Minister David Cameron responded to a plea from Madeleine's parents.
DCI Redwood told Panorama, his first interview since taking on the role, that solving Madeleine's disappearance is "the ultimate objective and is our ultimate objective".
His team of 28 detectives and seven civilian support staff are working their way through an estimated 40,000 pieces of information, including reports and documents from UK police, Portuguese police and private detectives hired by the McCanns.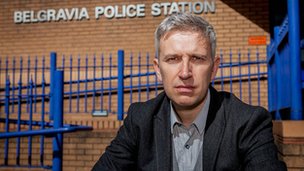 Richard Bilton presents Panorama - Madeleine: The Last Hope? on Wednesday 25th April on BBC One at 7.30pm
He said one major advantage for Operation Grange is that for the first time it has access to all of the available evidence all in one place.
"At no time before have those three elements been drawn together in one place. And so what we've done over the past number of months is to bring to one place all those pieces of the jigsaw."

DCI Redwood believes the case could be solved by reappraising the documentary evidence.

"Clearly within that material, the answer could lie," he said.
No hostility
Officers have made two trips to Spain and visited Portugal four times, most recently last week.
A review of the procedures followed in the investigation is also under way in Portugal.
It is being conducted by officers in Porto, in northern Portugal, far away from the Algarve where Madeleine went missing.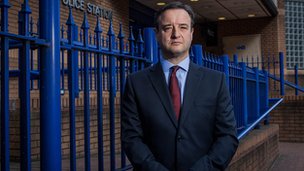 Det Ch Insp Andy Redwood is in charge of Operation Grange, which is based at Belgravia police station
Portuguese public opinion has not been supportive of the parents of Madeleine, but DCI Redwood said he is finding no hostility from the Portuguese review team.
"Those officers are engaged, they are open, they are working with us collaboratively and I've not encountered with them any of those views."
But he said if the case is to be reopened, it is up to the Portuguese police.
"It is a sovereign decision for the Portuguese authorities. But obviously what we seek to do is to bring them the best quality information to assist them in making that decision."
BBC Panorama - Madeleine: The Last Hope? will be shown on Wednesday 25th April, 7.30pm on BBC One.