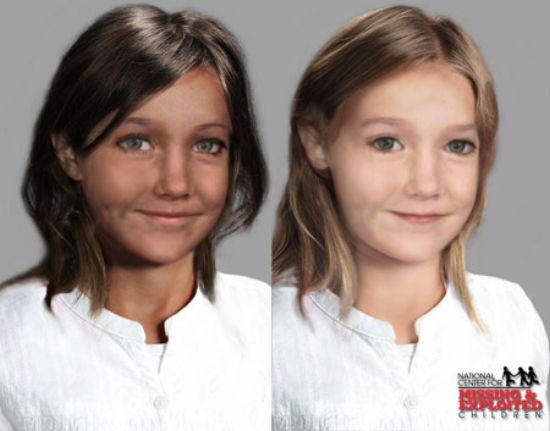 How Maddie may look aged six, with brown hair, left, and fair
The man leading the UK police hunt for Madeleine McCann has spoken for the first time about "solving it" and having the "best opportunity" yet to find the little girl who went missing from a Portuguese holiday apartment five years ago next week.
Det Chief Insp Andy Redwood, speaking to BBC Panorama - Madeleine: The Last Hope? on BBC One, Wednesday 25 April at 7.30pm, says:
"I am satisfied that the systems and processes that we are bringing to this set of circumstances will give us the best opportunity to find those investigative opportunities that we can then present to our colleagues in Portugal."
DCI Redwood says that his team of 28 detectives and seven civilian support staff are handling a huge number of reports and documents from Portuguese police, UK police and private detectives.
"Our initial estimates in terms of the amount of material we are facing is that it will be somewhere in the region of 40,000 pieces of information," he says. "There is, ultimately, a process of us turning every single piece of paper over and interpreting and analysing what is contained within them."
Asked by reporter Richard Bilton if the mystery of Madeleine McCann's disappearance could be solved simply by reappraising documentary evidence - "of a piece of paper that you've got downstairs" - DCI Redwood says: "Anything is possible, and clearly, within that material, the answer could lie.
DCI Redwood is the senior investigator on Operation Grange, based at Belgravia Police Station, which was established last May when Prime Minister David Cameron responded to a plea from Madeleine's parents to hold a UK police review of the case. He asked the Home Office to use a special contingency fund to finance a review by a homicide team from the Metropolitan Police.
So far, the review has cost taxpayers two million pounds. Officers have made two trips to Spain and visited Portugal four times, most recently last week. As Madeleine disappeared in Portugal, Portuguese police remain the lead agency and DCI Redwood and his team report to a team in Porto. But in one exchange in his interview with Panorama, he says that his team in Central London aims to solve the mystery.
"We are here in terms of seeking to bring closure to the case. That would be the ultimate objective and is our ultimate objective."
Richard Bilton: "What does that mean?"
DCI Redwood: "Well closure means establishing what has happened to Madeleine McCann."
RB: "Solving it?"
DCI Redwood: "Yes, solving it, of course."
He says that one big advantage that Operation Grange has is that for the first time it has access to all of the available evidence - and has it all in the one place.
"We are drawing together information from three separate sources," says DCI Redwood. "The legal enforcement bodies within Portugal, the UK enforcement agencies of which the police are the main part, and also and unusually the private investigation world which as we know is an element that was used by Mr and Mrs McCann in the search for their daughter."
Pressed on why he thinks this is unique, DCI Redwood answers: "Because at no time before have those three elements been drawn together in one place. And so what we've done over the past number of months is to bring to one place all those pieces of the jigsaw."
Panorama also interviews former Home Secretary Alan Johnson MP, who criticises the initial Portuguese investigation of the daughter of Kate and Gerry McCann.
"It seems to be disgraceful," says Johnson. "It didn't seem to me that they had had the benefit of a proper police investigation into the disappearance of Madeleine."
Johnson was the first Home Secretary to carry out a feasibility study into whether the Metropolitan Police could review the investigation. He met Madeleine's parents and says: "I was enormously sympathetic to their case. All the stuff that appeared in certain tabloids suggesting they were the guilty party, you know it's very difficult under that kind of saturation coverage not to start believing in some of those theories. But by the time they came in to see me I was absolutely clear that they were the victims in all this."
Johnson calls on Prime Minister David Cameron to launch a 'charm offensive' on the Portuguese government, in the face of public opinion which is said to be against the McCanns.
"Now a bit of diplomacy can ensure that you do get the co-operation you need from Portugal and we do get to the bottom of this."
Panorama also interviews Goncalo Amaral, initially the lead investigator for the Portuguese Policia Judiciaria, who was removed the case after he made outspoken criticism of British involvement in the investigation. He admits to mistakes, saying:
"It's a fact that our investigation had its faults and lost a lot of time, lots of time. And a lot of things didn't get followed up. And I'm just as much to blame for that as anyone else."
Since leaving the police in 2008, Amaral has written a book and presented a DVD about Madeleine's disappearance, in which he makes allegations against her parents. He is now being sued by Kate and Gerry McCann.
Isabel Duarte, the civil lawyer in Portugal who acts for the McCann family in their libel action against Amaral, says it's not a popular fight.
"I feel alone because I don't feel support, not in public opinion. I have friends that don't want to talk to me about the case because everyone believes in Goncalo Amaral. Everyone believes that I am defending a father and mother that have killed their daughter and got rid of the corpse."
Portuguese police were forced to admit that they were also conducting a review of the Madeleine McCann case as a result of Panorama's investigation.
After discovering that Operation Grange was working in tandem with a Portuguese review, Panorama asked Portuguese MEP Ana Maria Gomes to make enquiries. She discovered that a review of the procedures followed in the investigation was taking place. It was being conducted by officers in Porto in Northern Portugal, well away from the Algarve, where Madeleine went missing and where original investigators are based. However, it has been kept under wraps in Portugal.
Meanwhile DCI Redwood tells Panorama that despite Portuguese public opinion being against the parents of Madeleine, he is finding no hostility from the Portuguese review team and if the case is to be reopened, it's up to the Portuguese.
"My engagement with the Portuguese is with the police officers sitting within the review team in Porto. Those officers are engaged, they are open, they are working with us collaboratively and I've not encountered with them any of those views.
"But ultimately, the decision around reopening is for them, it is a sovereign decision for the Portuguese authorities. Obviously what we seek to do is to bring them the best quality information to assist them in making that decision."
BBC Panorama - Madeleine: The Last Hope? will be shown tomorrow night (Wednesday 25 April) at 7.30pm on BBC One.