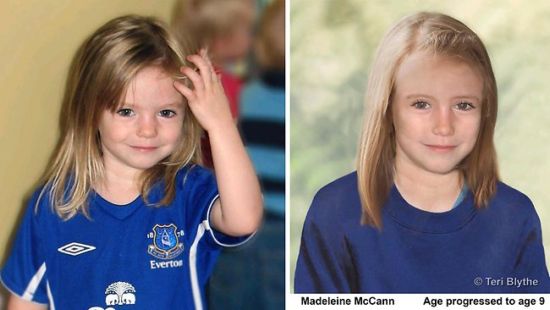 Hope remains: A computer-generated image of Madeleine McCann at nine years old (right) is seen next to a picture of her before she went missing at age four. Picture: AP Source: AP

BRITISH police reviewing the disappearance of Madeleine McCann said yesterday they believe she could still be alive five years after she went missing in Portugal.
The Scotland Yard team sifting through a wealth of material relating to the youngster, who vanished in 2007, said they had identified 195 "investigative opportunities" that could be followed up.
They also urged the Portuguese judiciary to allow the case to be reopened, saying Portuguese police also wanted to re-start the search.
Scotland Yard renewed their appeal for information as they released a computer-generated image, created by experts, of how Madeleine might look now approaching what would be her ninth birthday on May 12.
Madeleine, who was almost four at the time, disappeared from the family's holiday flat in Praia da Luz on the Portuguese south coast on May 3, 2007 while her parents were at dinner.
"We genuinely believe there is a possibility that she is alive," said Detective Chief Inspector Andy Redwood from Scotland Yard's Homicide and Serious Crime Command, who is leading the investigative review.
"And we are currently developing material which we believe represents genuinely new information," he told reporters.
"We are working on the basis of two possibilities here: one is that Madeleine is still alive; and the second that she is sadly dead.
"Our drive on both scenarios is in equal measure."
He said the review, launched last year, was a quarter of the way through its work.
Insp Redwood said his 37-strong team had at least 40,000 pieces of evidence to go through, containing around 100,000 pages - some needing time-consuming translation.
"We believe that is the only way that we can properly establish what has happened to Madeleine McCann and ultimately bring closure by solving this case," he said.
Investigations showed what appeared to be "gaps" in the forensic timeline which led to the possibility of her still being alive.
"I am satisfied that there are opportunities there for Madeleine McCann to have been taken as part of a criminal act," Insp Redwood said.
"Within that, we can see unanswered questions."
Among the 195 potential leads, "some of those are to do with sightings", he said.
Insp Redwood said if they found something "red hot", then pan-European procedures were in place for action.
He added: "Our aspiration is to get this case reopened. My colleagues in Portugal want to reopen the case... they are completely engaged and totally committed."
Insp Redwood's team has been working on material from the Portuguese investigation, enquiries in Britain and the work of private investigators.
He urged the public to come forward with any information.
The British investigation has so far cost around 2 million pounds ($3.1 million).
Madeleine's parents Gerry and Kate McCann have never abandoned their high-profile campaign to find their eldest daughter.
They are "encouraged" by the review, their spokesman Clarence Mitchell told reporters.
"They have drawn great strength from this whole process. They feel that, finally, a proper investigative procedure is now being applied to the search," he said.
"A hundred and ninety-five potential leads, five years on, is still quite substantial and it only takes one of those to be the key to unlocking this.
"The answer lies somewhere in all of that mountain of information. It feels like there still is momentum in the case."