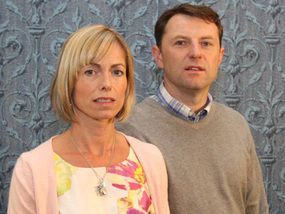 Scotland Yard detectives are confident they can solve Madeleine McCann's disappearance
SCOTLAND Yard detectives are confident they can solve the mystery of Madeleine McCann's disappearance.
They are approaching the huge task of reviewing all known evidence with renewed vigour as the fifth anniversary of the three year old going missing approaches.
A source close to the investigation said: "They are working extremely hard to solve the case in the sense that they want to be able to say what they believe has happened to the child. Their attitude is that it is solvable and they are working to that end.
"The approach is very professional and all officers are committed to doing their very best to understand existing evidence while looking for new evidence. They want definitive answers and are working extremely hard to get to the truth. The investigation is gathering momentum."
The so-called Maddie Squad is headed by Detective Chief Inspector Andy Redwood, one of the Yard's most respected officers, who has 36 detectives and civilians under him.
She has been drained, wept and suffered. It has been a great mental strain on her
Kate's mother Susan Healy
Portuguese police sources say he has established an "excellent" working relationship with counterparts in Portugal.
Senior investigator Helen Monteiro, who is in charge of the Portuguese team based in Porto, has made it clear her officers are available to pursue any leads the Yard comes up with.
Liaison officers are keeping Madeleine's parents Kate and Gerry informed.
The couple, of Rothley, Leicestershire, have been inundated with requests for interviews to mark the May 3 anniversary but have said they do not wish to say or do anything which could possibly impinge on the Yard review at this stage.
The Sunday Express understands that Leicestershire Police, who have worked closely with Portuguese detectives, have form­ally handed over all their information on the case to the Yard. The files include video interviews and scores of witness statements. "Effectively the Met has now taken over the British side of the investigation," said a source.
While the review gathers pace, Kate McCann has been busying herself by writing a short epilogue to a paperback version of her hardback book, Madeleine, which has sold 350,000 copies in the UK alone since its launch last year. Proceeds from sales continue to fund the search for Madeleine.
The paperback version will be released on May 10, seven days after the anniversary of her daughter's disappearance in 2007 from a holiday apartment in the Algarve resort of Praia da Luz. Kate will refer to the Scotland Yard probe in the new chapter but will not disclose any details of the investigation.
Last month she and Gerry flew to Sweden to promote the hardback version of the book in a drive to raise international awareness of the case.
In an interview with the Swedish magazine Sondag, Kate's mother Susan Healy said: "Kate has never given up hope that Madeleine will return. She wants to learn the truth and I think it is so important that it comes out.
"It has been a lot of hard work for my daughter to write the book.
"She has been drained, wept and suffered. It has been a great mental strain on her."
Mrs Healy lives in Liverpool but talks to her daughter every day and often goes to stay with the family in Rothley to offer support and help care for twins Sean and Amelie.
On May 23 Kate will attend a reception at Downing Street at which David Cameron will personally back International Missing Children's Day on May 25