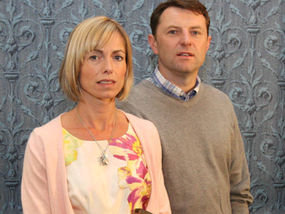 Madeleine's parents Kate and Gerry McCann
THE parents of Madeleine McCann were given fresh hope last night after it was revealed a police search is under way for her in a Costa del Sol holiday resort.
Detectives are making inquiries in the southern Spanish town of Nerja after a tip-off from police in Portugal of a possible sighting of the girl who would now be approaching her ninth birthday.
As Kate and Gerry McCann prepare to mark the fifth anniversary of their daughter's disappearance on May 3, they have learnt that Portuguese officers received new details of a young girl resembling Madeleine spotted in the town near Malaga.
Officers from a specialist unit in Spain have been mobilised to the region – 270 miles from where Madeleine went missing in Praia da Luz, Portugal – after being sent a report about the sighting.
It is understood the tip-off came from a witness after identifying a girl she believed to have a strong physical resemblance to the British youngster.
The investigation is being carried out by the Specialist and Violent Crime Unit (UDEV) of the Spanish National Police, who have already started to check details. Officers from Scotland Yard have also been informed.
In Nerja, which has a large British expat community, Town Hall spokesman Antonio Gallardo said yesterday: "We urge anyone with any relevant information about Madeleine McCann to assist in the search for her by contacting authorities with that information."
Last night the McCanns' spokesman Clarence Mitchell said: "They are aware of this report and remain pleased that the police are co-ordinating and following up any leads where necessary."
He added that they were unable to discuss any operational details relating to police inquiries. A spokesman for Scotland Yard also declined to comment on the reports of the sighting.
But the development is thought to be linked to a fresh review of Madeleine's disappearance by police in Portugal.
A new squad of detectives was recently brought in to re-examine the case. The team, from the northern Portuguese city of Porto, has been instructed to go over the thousands of pages of case files. In a similar but separate case, officers from the specialist crime unit are searching for two siblings who disappeared in a park in Cordoba, southern Spain on October 8.
The youngsters' father Jose Breton is in jail after being arrested over their disappearance. Police have failed to find any trace of Ruth, six, and Jose, two, despite several searches with radar equipment.
The McCanns' Portuguese lawyer Rogerio Alves described the Portuguese case review as a "very positive sign".
He said when news emerged of the creation of the new team: "Obviously the most plausible explanation for what's happening is that information passed to or acquired by the Judicial Police in Porto has put them on the trail of something specific."
Nerja, known for its famous caves, is home to over 23,000 people although its population more than doubles in summer. Around 30 per cent are foreigners including 3,000 Britons, the biggest expat group.
Several groups of children, including girls of Madeleine's age, were playing yesterday at Nerja's rocky promentory Balcon de Europa.
The viewpoint – literally Balcony of Europe – offers stunning panoramas across the Mediterranean and is one of the town's main tourist attractions.
Cafe and bar owners said they had not yet been quizzed about the missing youngster.
A spokesman for Spain's National Police, the force said to have received a request for assistance from counterparts in Portugal, also refused to comment.
But a source close to the inquiry said: "An email requesting help regarding a sighting in Nerja of a girl resembling Madeleine McCann was received from Portuguese police around 10 days ago. The contents of the email have not been widely divulged.
"Spanish police are more hermetic than police in places like Britain and this sort of information is not the sort they'd want to put into the public domain. The unit that received the request has total autonomy to use their own officers on inquiries and not involve other police forces or even inform them if they go on to their patch.
"They specialise in missing person inquiries. It would be totally normal for them to keep things in house."
Madeleine's parents have never given up hope. Last December, up to eight "very important" leads in the hunt were handed to Scotland Yard's McCann squad – Operation Grange – by the Barcelona-based private investigators Metodo 3.
The four-strong British police team had detailed discussions with the private detectives and later took possession of 30 boxes of documents about Madeleine.
Francisco Marco, Metodo 3's director, said he believed it was "very possible" the little girl was taken to North Africa.
The McCanns, both doctors, who live in Rothley, Leicestershire, with Madeleine's younger twin siblings, Sean and Amelie, have spoken of their satisfaction that British police appeared to be making progress. On their website, set up to keep the hunt alive, they insist there is no evidence Madeleine has been harmed.
A message on the site reads: "Madeleine is still missing and someone needs to be looking for her. We love her dearly and miss her beyond words."