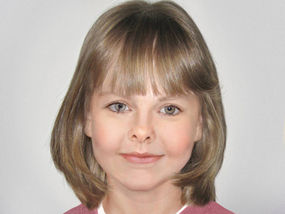 FBI experts imagine Maddie five years on
THIS is an age-progression picture of Madeleine McCann as she would be now, aged eight.
US experts, who work with police forces tracing missing people, created the image for the Sunday Express using FBI forensic computer techniques.
They believe Madeleine will now have more defined features with a longer nose, slightly thicker lips and her face would be more elongated as her facial bones continue to grow. In the main image she appears to show a stronger resemblance to her mother Kate, with the "puppy fat" of her early years giving way to a more slender look.
Her wide eyes would also have narrowed a little and her hair darkened, say experts, since she vanished from a holiday flat in Praia da Luz on Portugal's Algarve coast on May 3, 2007.
One image-progression expert said: "Her eyebrows would be coming in more and would seem darker and fuller than they were.
"She would look more like the teenager she would soon become than the little girl who was so cruelly taken from her parents."
He said that the new image also showed how her shoulders would be taking shape