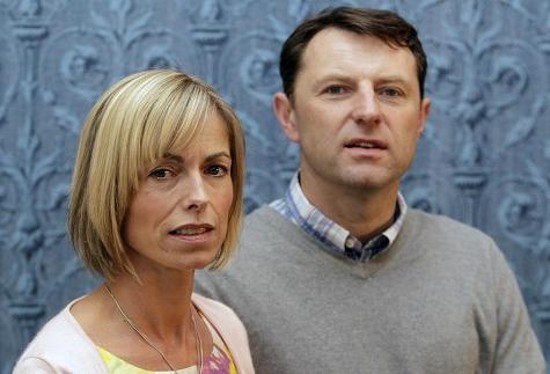 Kate and Gerry McCann are said to be 'hugely encouraged' by Scotland Yard's ongoing review of the case
Kate and Gerry McCann will mark the fifth anniversary of their daughter Madeleine's disappearance this week amid renewed hopes that she will be found.
The couple are said to be "hugely encouraged" by Scotland Yard's ongoing review of the case, which has identified nearly 200 potential leads.
But the Portuguese authorities have so far refused to reopen their investigation into how the little girl vanished on a family holiday to the Algarve on May 3 2007.
The McCanns, from Rothley, Leicestershire, have no plans to return to Portugal for the anniversary, and will mark the sad landmark on Thursday privately with family and friends.
Detective Chief Inspector Andy Redwood, the officer leading Scotland Yard's review, spoke last week of his belief that the case can still be solved and launched a fresh appeal for information.
His team of 37 officers have sifted through 40,000 pieces of information and identified 195 "investigative opportunities".
Mr Redwood believes Madeleine was a victim of stranger abduction and says there is evidence she could still be alive. He said the Metropolitan Police would like the case to be reopened, but stressed that the decision was one for Portugal.
"What we are not doing is just passively passing through material. We are actively seeking to bring closure in this case," he said.
However, Pedro do Carmo, deputy national director of the Policia Judiciaria, Portugal's CID, responded: "So far, no new element has been found that might provide the basis for a reopening of the investigation."
Madeleine was nearly four when she vanished from her family's holiday apartment in Praia da Luz in the Algarve as her parents dined with friends at a tapas restaurant nearby. Despite a massive police investigation and huge publicity worldwide, she has not been found.