I've helped find 160,000 missing children, we must not give up hope of finding Maddie says ERNIE ALLEN President of National Centre for Missing and Exploited Children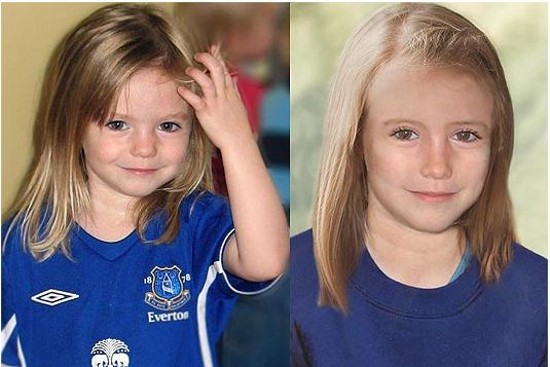 Snatched ... Madeleine McCann as she was and how she is predicted to look now

THE little girl gripped her mother's hand and huddled closer as the woman ranted at police.
As she protested at her arrest on a trivial charge, the group of officers tried to calm the mum — with one exception.
One cop scrutinised the child before slipping away to phone America's National Center for Missing and Exploited Children (NCMEC).
Yesterday the group's president, Ernie Allen, revealed how that phone call ended a seven-year international hunt for the little girl.
And he believes Madeleine McCann's family can have a similar happy ending.
Mr Allen said: "It turned out the girl had been snatched from her home in Southern California and taken thousands of miles to Puerto Rico. When I asked the policeman why he called, he replied, 'Because something just didn't seem right'.
"That's what could happen in Madeleine's case. Just one person thinking 'That's not right'."
Mr Allen, a lawyer, has become close to Kate and Gerry McCann since their daughter was taken from a holiday flat in Praia da Luz, Portugal, on May 3, 2007, aged three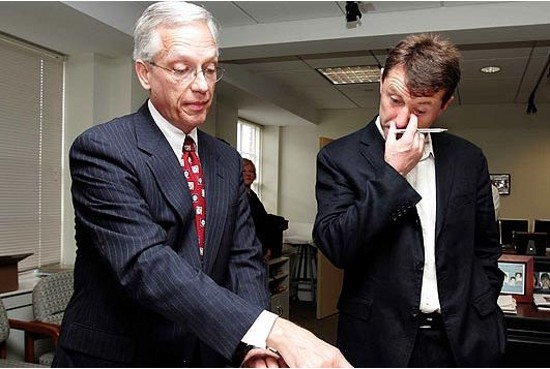 Team ... Gerry McCann, right, and Ernie Allen Albanpix.com

He has given the couple, from Rothley, Leics, advice about how to keep their search going.
And as Kate, 44, and Gerry, 43, face the fifth anniversary of Maddie's disappearance, on Wednesday, he has told them never to give up.
Speaking from the Washington offices of his non-profit organisation, funded by the US state, Mr Allen said: "You don't ever close missing child cases, these children are still out there. I have told Kate and Gerry the story of that girl from California and many others.
"Miracles happen. It doesn't matter how long a child has been missing. Until Madeleine is found, or we know for certain what has happened to her, we will not give up."
Mr Allen firmly believes Maddie could be alive and well.
He said: "She was very young when she was taken and young children are easily manipulated. She may have been told all manner of lies, for example that her parents are dead. Children are taught to obey and believe adults.
"People assume that children are always abducted by paedophiles, but they can be taken by someone who just wants a child to bring up as their own.
"A child becomes conditioned by their abductor. We had a nine-year-old girl who was found after ten months. She was very bright but when I asked her why she never tried to escape, she said, 'Because the lady told me not to'."
Mr Allen, 66, spoke to The Sun days after Portuguese authorities refused to reopen the Maddie inquiry despite Scotland Yard detectives identifying 195 new leads.
Last night the McCanns' lawyer in Lisbon insisted cops there missed vital clues. Isabel Duarte says key forensics work was not carried out after a sniffer-dog picked up Maddie's scent at a car park near the crime scene.
Ms Duarte said a witness description of a man seen looking into the family's apartment, and records of local mobile calls made at the time, were also not followed up properly.
Mr Allen co-founded NCMEC almost 30 years ago, to help parents do everything they can to find their children, after working as a lawyer on a missing child case.
The group has helped develop vital technology including the age-progression technique used to create images such as the newly released picture of Maddie aged nine.
It also runs a 24-hour hotline and has trained 300,000 US law enforcement officers, and works closely with international police Interpol.
Mr Allen said: "Since 1984, we have been involved in 174,000 cases of missing children — and recovered 160,000. We are proof that the vast majority of missing children around the world come home safely."
He added: "I think about Maddie every day. Kate and Gerry have been criticised for being so public about her, but you need to keep reminding people a child is still missing.
"We had a taxi driver who came forward after seeing an appeal ten years after a child was snatched. He believed he had picked up the abductor and child soon after the abduction.
"The case was solved thanks to him. That so easily could happen in Madeleine's case.
"I believe it will be solved with that one simple phone call."