Here is a timeline of the key events since she disappeared from Praia da Luz in Portugal in 2007.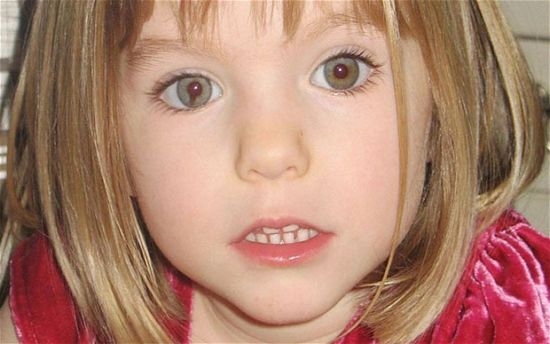 Madeleine was nearly four when she went missing from her family's holiday flat in Praia da Luz in the Algarve on May 3 2007 Photo: PA
2007
:: May 3 - Kate and Gerry McCann, from Rothley, Leicestershire, leave their three children asleep in their holiday apartment in Praia da Luz Praia da Luz while they dine with friends at a nearby tapas restaurant.
Nothing is amiss when Mr McCann checks on the youngsters at just after 9pm, but when his wife goes back at about 10pm she finds three-year-old Madeleine missing.
Jane Tanner, one of the friends eating with the McCanns, later reports seeing a man carrying a child away earlier that night.
:: May 5 - Portuguese police reveal they believe Madeleine was abducted but is still alive and in Portugal, and say they have a sketch of a suspect
:: May 14 - Detectives take Anglo-Portuguese man Robert Murat in for questioning and make him an "arguido", or official suspect.
Officers also search the home he shares with his mother in Praia Da Luz, just 100 yards from where the youngster was snatched.
:: May 25 - Detectives finally release the description of the man reported by Jane Tanner three weeks earlier following pressure from the McCanns, their legal team and the British Government.
:: May 30 - Mr and Mrs McCann meet the Pope in Rome in the first of a series of trips around Europe and beyond to highlight the search for their daughter.
:: August 6 - A Portuguese newspaper reports that British sniffer dogs have found traces of blood on a wall in the McCanns' holiday apartment.
:: August 11 - Exactly 100 days after Madeleine disappeared, investigating officers publicly acknowledge for the first time that she could be dead.
:: August 31 - The McCanns launch a libel action against newspaper Tal and Qual over a front-page story which claimed police believe they killed their daughter.
:: September 7 - During further questioning of Mr and Mrs McCann, detectives make them both "arguidos" in their daughter's disappearance.
:: September 9 - The McCanns fly back to England with their two-year-old twins Sean and Amelie.
:: October 2 - Goncalo Amaral, the detective in charge of the inquiry, is removed from the case after criticising the British police in a Portuguese newspaper interview.
:: October 9 - The case is taken over by Paulo Rebelo, a senior detective with Portugal's investigative Policia Judiciaria normally based in Lisbon.
:: October 25 - The McCanns release a new artist's impression drawn by an FBI-trained expert showing the man described by Jane Tanner.
:: November 1 - Mr McCann returns to work as a consultant cardiologist at Leicester's Glenfield Hospital.
:: December 22 - Mr and Mrs McCann send a public message to their daughter, telling her: "Our only Christmas wish is for you to be back with us again."
2008
:: February 4 - Portugal's top detective, Alipio Ribeiro, says in a radio interview that police were "hasty" in making Madeleine's parents suspects in her disappearance.
:: March 19 - Mr and Mrs McCann accept £550,000 libel damages and front-page apologies from Express Newspapers over allegations they were responsible for Madeleine's death.
:: April 7 - Three Portuguese detectives, led by Mr Rebelo, fly to Britain to re-interview the seven friends on holiday with the McCanns when Madeleine vanished.
:: April 10 - Speaking in Brussels, Mr and Mrs McCann call for a Europe-wide missing child alert system.
But this is overshadowed by a leak of the couple's first police interviews, which reveals that Madeleine asked her mother on the morning before she vanished: "Mummy, why didn't you come when we were crying last night?"
:: April 26 - In an interview for a BBC Radio 4 documentary, Mr McCann says he believes his daughter is still "probably alive" and that there is "absolutely zero" evidence to suggest otherwise.
:: April 30 - An ITV documentary reveals that the McCanns almost decided against leaving their children behind when they went out on the night Madeleine disappeared.
:: May 3 - A tearful Mrs McCann urges people to "pray like mad" for Madeleine as she and her family mark the first anniversary of the little girl's disappearance.
:: July 17 - Mr Murat receives £600,000 in libel damages from four newspaper groups over "seriously defamatory" articles connecting him with the child's disappearance.
:: July 21 - The Portuguese authorities shelve their investigation and lift the "arguido" status of the McCanns and Mr Murat.
:: July 24 - Mr Amaral publishes a book about the case, entitled The Truth Of The Lie, in which he alleges that the young girl died in her family's holiday flat on May 3.
:: August 4 - Thousands of pages of evidence from the Portuguese police files in the exhaustive investigation into Madeleine's disappearance are made public.
They reveal details of the lines of inquiry pursued by detectives, witness statements and scores of previously unknown sightings of the little girl.
2009
:: January 13 - Mr McCann returns to Portugal for the first time since coming back to the UK without his daughter.
:: January 29 - Nearly £2 million was raised for the official fund to find Madeleine in the first 10 months after she went missing, Companies House accounts show.
:: March 24 - The McCanns launch a localised new appeal for information focused on the area in the Algarve where Madeleine disappeared.
:: April 4 - Mr McCann goes back to Portugal to help film a reconstruction of the events on the night his daughter vanished for a new Channel 4 documentary.
:: April 22 - The McCanns fly to the US to record an interview with celebrated chat show host Oprah Winfrey to mark two years since Madeleine's disappearance.
:: May 16 - The McCanns announce they will sue Mr Amaral over comments he made in the media.
:: May 22 - It emerges that British convicted paedophile Raymond Hewlett is being investigated in connection with Madeleine's disappearance. He is later ruled out.
:: September 23 - The McCanns return to Portugal together for the first time in more than two years. They meet lawyers and a PR agency in Lisbon but do not visit the resort where they last saw their daughter.
A Portuguese judge grants an injunction temporarily banning sales and further publication of a book by former police detective Goncalo Amaral, Maddie: The Truth about the Lie, which was originally published in July 2008.
:: October 21 - Shirts emblazoned with pictures of Madeleine are handed out ahead of Everton FC's Europa League tie with Portuguese team Benfica in Lisbon. The words "We're Still Looking For You" are printed on them.
:: November 3 - A one-minute video message - produced in seven languages - is launched by Britain's Child Exploitation and Online Protection Centre, showing new images of how the girl might look more than two years older.
:: December 13 - The McCanns return to Praia da Luz, the resort they were staying at when Madeleine disappeared, while visiting Portugal for a court case over a book claiming she is dead.
2010
:: January 28 - A video of the McCann's search for Madeleine is shown at a fund-raising event in London in January to mark the 1,000th day since Madeleine's disappearance.
:: February - Mr Amaral fails to overturn a ban on his book about Madeleine. Mr McCann says new information was not being followed up by Portuguese police.
:: April 28 - Near the third anniversary of Madeleine's disappearance, Mr McCann says it is "incredibly frustrating" that police in Portugal and the UK had not been actively looking for Madeleine "for a very long time".
:: March 6 - The McCanns criticise the release of previously unseen Portuguese police files on their daughter's case to British newspapers. The 2,000-page dossier details dozens of possible sightings of Madeleine since she disappeared.::
:: May 2 - The McCanns release a video online which shows the couple trying to find their missing child over the past three years. It was originally shown in January.
:: August - Kate and Gerry McCann hold private talks with Home Secretary Theresa May.
:: October - A court in Lisbon overturns a ban on the book Goncalo Amaral in which he questioned the couple's accounts of their daughter's disappearance.
:: November - The McCanns sign a publishing deal to write a book about their daughter's disappearance. They also launch a petition calling for a full review of the case by the UK and Portugal.
2011
:: May 3 - The McCanns mark the fourth anniversary of Madeleine's disappearance with family and friends.
:: May 12 - In an open letter in the Sun newspaper, the McCanns ask the Prime Minister to launch an "independent, transparent and comprehensive" review of all information relating to the disappearance of their daughter.
They publish a book, entitled Madeleine, which the couple hope will prompt people holding vital information about what happened to Madeleine to come forward. Sale proceeds will go towards the Find Madeleine fund.
:: May 13 - Prime Minister David Cameron writes to the McCanns telling them the home secretary will be in touch to set out "new action" involving the Metropolitan Police.
:: July 28 - The Mccann family spokesman dampens speculation of a possible breakthrough in the search for missing Madeleine after a sighting was reported in India.
:: November - Giving evidence to the Leveson Inquiry, Mrs McCann describes feeling "violated" and like "climbing into a hole and not coming out" when her intensely private journal appeared in the News of the World on September 14, 2008.
2012
:: April 17 - Spanish police search for Madeleine in a Costa del Sol holiday resort following a tip-off from colleagues in Portugal.
:: April 24 - British police conducting an ongoing review into Madeleine's disappearance say their investigation offers the "best opportunity" to solve the mystery. Detectives say it is the first time information from all sources has is pooled.