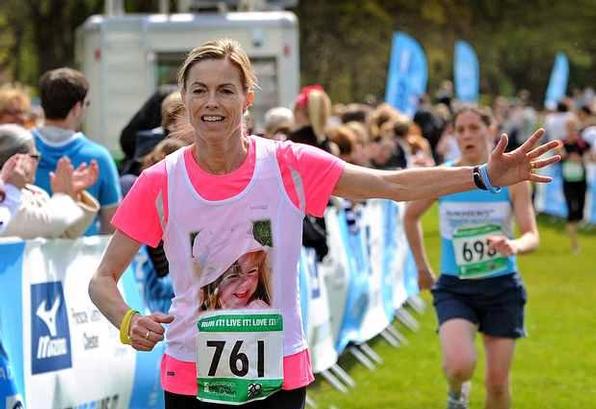 Kate McCann taking part in the Run Liverpool Festival of Running
KATE McCann thanked the people of Liverpool for their continued support after completing a 10km race in Sefton Park.
The Anfield-born mum was cheered by watching crowds as she ran wearing a shirt with a picture of missing daughter Madeleine printed on it.
Last week the McCanns marked the fifth anniversary of the disappearance of Madeleine who vanished while the family were on holiday in Portugal.
Kate took just over 45 minutes to complete the course with childhood friend Nicky Gill.
Watching on was husband Gerry who earlier completed the men's 10km and twins Sean and Amelie.
After finishing the race in a top with "Never Give Up2 on the back Kate said: "It was great to be able to take part. It was a lovely day.
"We always get so much support when we are back home and people were cheering and the children were clapping, it gives you that extra boost.
"We always have great support. Every time we are in Liverpool we leave with a big boost.
"Thanks to everyone at the ECHO and to everyone in Liverpool."
Hundreds of runners enjoyed the glorious sunshine in Sefton Park as they took part in the Run Liverpool Festival of Running.
Races held on the day included a men's 10km, a women's 10km and 5km and a children's one mile fun run
Ex-Brookside actress Suzanne Collins and Craig Phillips, the winner of the first Big Brother, were ambassadors for the festival which was held in support of Claire House Children's Hospice.
Craig, from Seaforth, said: "It's a huge event and it was all about Claire House, a local charity which does an amazing job for terminally-ill children.
"I think when it's local like that and it's children involved it's always close to everyone's heart."
The event attracted a series of Sefton Park 10km veterans.
Keen runner Ian Russell from Garston was looking forward to the run.
He said: "I do it every year. I have been doing it since they started and it's brilliant.
"I love it. It's always great and the people cheering you on really does help and gives you a good boost."
Halewood-based Paula Need said: "It's fantastic. This is the third year I have done it.
"It's always a good race and has a good atmosphere."
Tony Langan, area fundraiser for Claire House, was grateful to the runners supporting the event and the children's charity.
He said: "We would like to thank the runners that have trained hard and worked hard to raise money for us. It's really important that we get the support in Liverpool as so many of our families are from this area."