Investigators suggest Ben, who was aged just 21 months, may have been buried by accident after wandering to the nearby site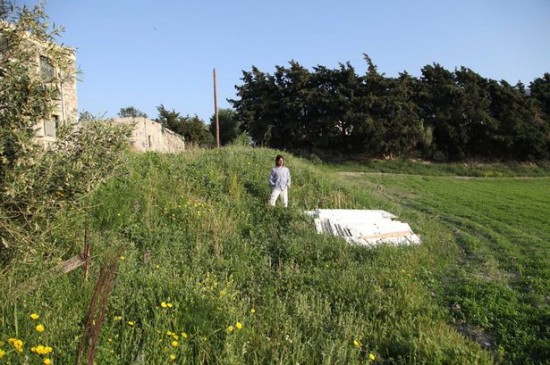 The mound: Mirror reporter by the now overgrown embankment
GREEK investigators are set to launch a new search for Ben Needham 21 years after he vanished on the island of Kos.
They want to dig up tons of earth piled yards from the farmhouse where the toddler disappeared while with his grandparents.
Their theory suggests Ben, who was aged just 21 months, may have been buried by accident after wandering to the nearby site.
The Greeks are trying to get British police to provide 3D ground scanners capable of detecting human bones buried beneath rubble.
A source close to the investigation said specialist officers sent from Athens believe a full excavation should be carried out.
"The officers who worked on the case last year told me they want to dig up the mound," our source on the island revealed.
"They would like access to the sophisticated equipment and forensic expertise which British police have at their disposal."
The Mirror tracked down JCB driver Konstantinos Barkas, who confirmed he was excavating earth for a new property to be built 50 yards away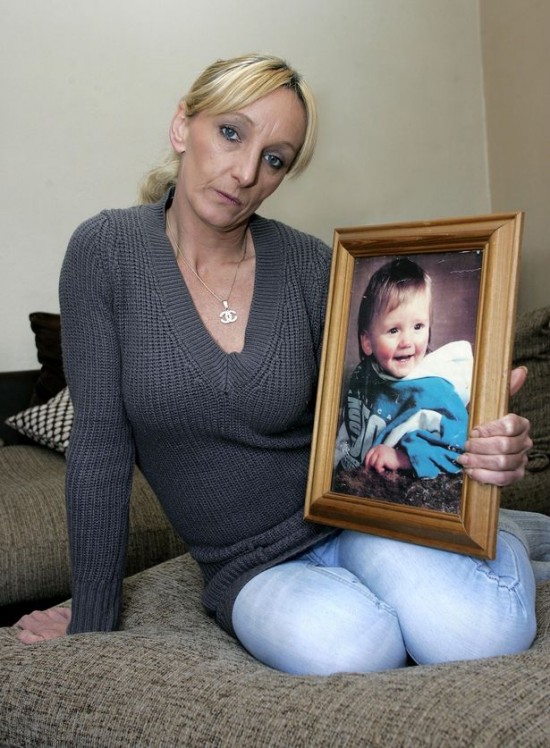 Hope: Mum Kerry with a photo of missing Ben
He was at work on the site during the crucial first three hours after the little boy from Sheffield went missing while on holiday with his parents, Kerry Needham and her then boyfriend Simon Ward.
Speaking for the first time, Mr Barkas, 61, also revealed he has given a statement to police.
"Yes, I was the man with the JCB that day," Mr Barkas said.
"Loads of earth were being taken to clear the ground for the new house down the road. Cutting that much ground from the hill was a big job.
"I think people were misled in thinking the child was abducted.
"Could there have been an accident? I don't think so but no one really knows what happened.
"The little boy was two years old and the thorns in that field were as high as my waist.
"I remember I was still there when Kerry's brother Stephen, Ben's uncle, came back late in the afternoon and told me the boy was missing. I will never forget that."
The sensational development raises serious questions about whether blue-eyed Ben could have died in such appalling circumstances.
As well as the suspicion he was accidentally buried after wandering off, other theories suggested by our sources include him being the victim of a fatal accident before the culprit hid him in a shallow grave knowing it would be further covered by tons of earth.
They also suggest the child could have been murdered and buried at the site in the east of the island.
It was on July 24, 1991, that the little boy's mum Kerry, only 19 at the time, left him with her parents Eddie and Christine Needham, who had emigrated to Kos.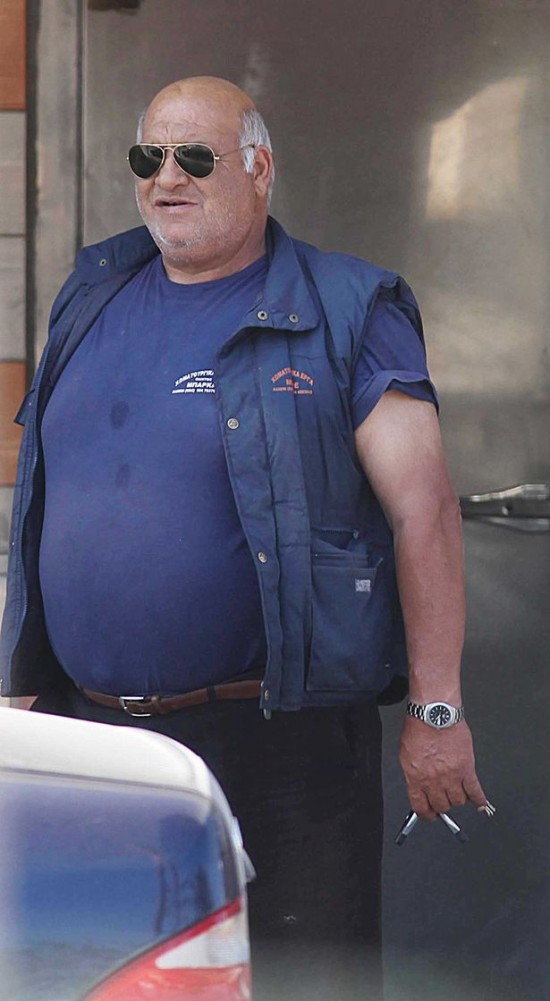 JCB driver: Konstantinos Barkas has spoken publicly for the first time
Kerry was also planning to move there with Ben and had gone to work as a waitress in a hotel.
Her parents took Ben and Kerry's brothers Stephen and Daniel to a small ­farmhouse above Kos Town owned by their Greek friend Michaelis Kypreos, who had enlisted builder Eddie for renovation work.
Christine and Eddie recall eating lunch inside with Michaelis to escape the searing heat.
The grandparents say that at 2.30pm Christine realised Ben had gone quiet while playing outdoors in temperatures of more than 30C, and searched for him on the surrounding land.
At least three hours passed before the frantic grandparents contacted police to report Ben missing and provide a picture of the youngster.
Greek detectives are increasingly convinced the most likely explanation for the long-running mystery is that Ben, who would be 23 this year, died on the day he vanished.
"This idea is a lot more plausible than Ben being abducted," a Greek source said.
"Going back 20 years, there were only two or three families up there. There would be no reason for anyone else to go up there.
"A stranger would have needed to be watching the house beforehand, and then would have snatched him in broad daylight before secreting him off the island by boat or plane.
"Such an operation would have required massive organisation.
"What cops do know for sure is that the dumper truck was driving up and down the track next to the house.
"This carried on in the days and weeks after Ben had been reported missing.
"The officers sent to Kos to head up the new team in 2011 think Ben could have been covered over with soil and stones when the truck driver emptied a load of earth."
Det Chief Insp Matt Fenwick, of South Yorkshire Police, visited the island last year with a colleague when the case was relaunched.
They were told about the burial theory, along with other lines of inquiry, according to our sources.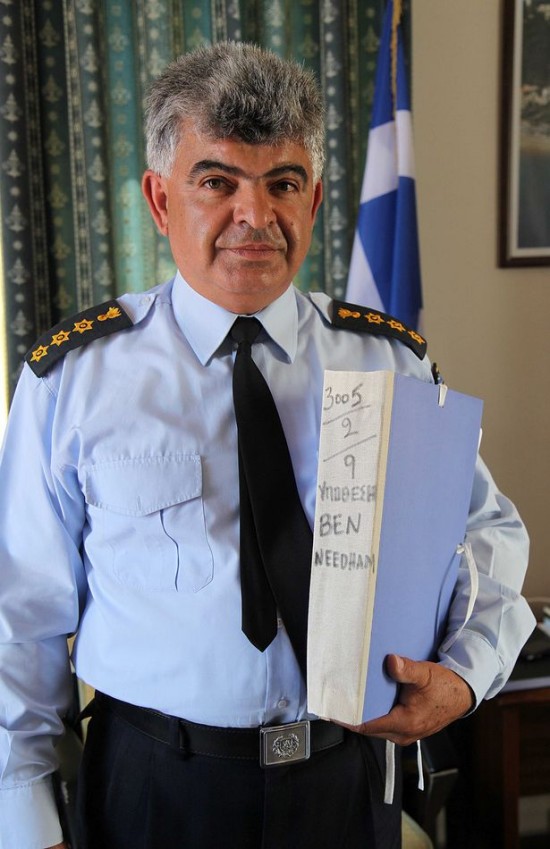 Police chief: Colonel Sentonas St Stergos with Ben file Roger Allen
On the day Ben went missing a handful of officers arrived in the dark at the house in tiny Iraklis.
But the nearby mound has never been the focus of a proper search.
The site was thick with rubble and rubbish from building work.
Today it forms a steep bank covered by 2ft of grass and weeds grown over soil and lumps of concrete.
Standing on top of it and looking down, it is easy to visualise a grim scenario.
The Mirror also tracked down local shopkeeper Xanthippi Agrelli, who has also been interviewed by Greek police over the disappearance of Ben.
The mother-of-two also believes he could have accidentally died and somehow ended up in the mound.
"I think it was a terrible accident, nothing more," Mrs Agrelli, 59, said.
"I don't think anybody else is involved. It would be insane to think that ­somebody took the child.
"The Needhams were very good people. My husband Dimitrios and I were friends with them.
"But the baby could have briefly slipped from their attention. That could happen to any family.
"He could have been covered over. It would have been too late by the time anyone realised."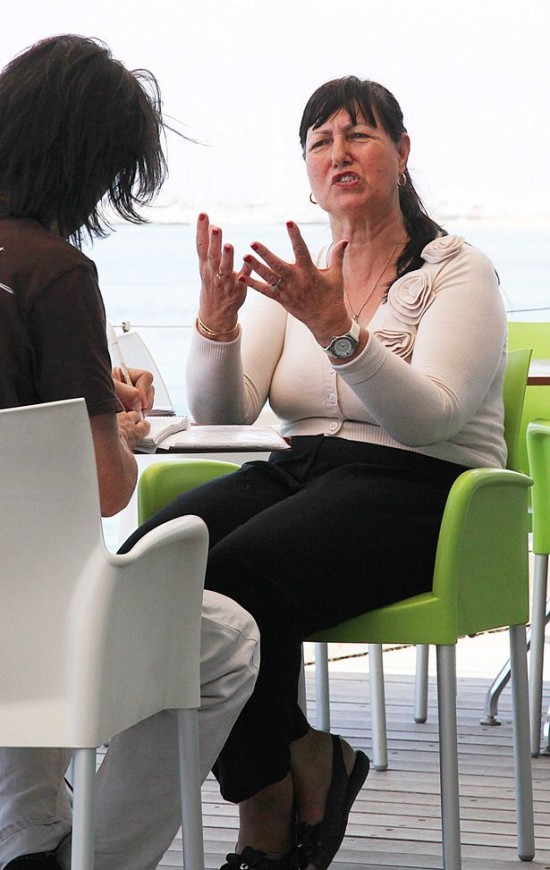 Friend: Shopkeeper Xanthippi Agrelli
South Yorkshire Police confirmed it was "undertaking a review" of the Greek cops' latest findings.
A spokesman said: "We will seek to identify any further lines of inquiry that may assist in the search to locate Ben.
"We will support the Greek authorities in any line of inquiry they wish to pursue based on the evidence presented to them."
Kerry believes Ben was snatched by someone driving a white car along the lane at the time.
The car sighting was reported to Kos police by the four builders working on the new house, who included Mr Barkas.
There have been more than 300 false sightings of Ben in Greece and across Europe.
But Kos Police Colonel Sentonas St Stergos said: "We have more ­information that has come to us since the investigation was re-opened last September, when Ben's mum Kerry came here with his grandparents.
"That is what we are looking into. For many years now the same leads have been looked at again and again.
"There have been too many theories. More than anything we want to help bring this ­nightmare to an end for Ben's parents.
"They have to know what happened to him."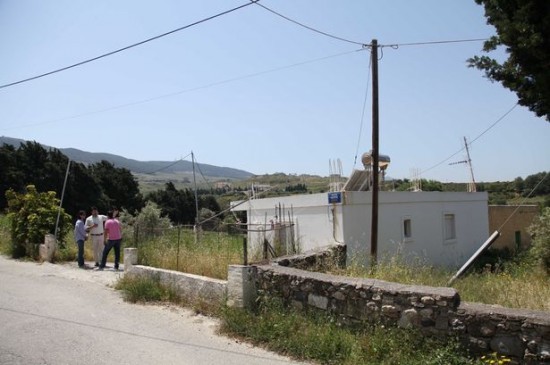 Mirror investigation: Reporter Tom Parry with Greek detectives outside the Needham's house Roger Allen
* Ben's grandfather Eddie Needham refuses to believe anyone could have been evil enough to kill and bury the tragic toddler.
But he believes a new excavation might be worthwhile.
Eddie, 63, who spent weeks scouring the area for his grandson, said debris was dug up and sifted through in front of him and wife Christine.
But it came from next to his friend Michaelis' home, not the area Greek police now want to investigate.
He said: "The new mound wasn't there then. It was rubble and rubbish. But I can't imagine anyone would ­accidentally kill a little boy and callously cover up the evidence."
And Eddie, from Sheffield, admits he is clinging to the hope that Ben is alive.
"I can't believe Ben died out there as we were looking.
"Even the police at the time believed he was alive. They told us his body would have been found by a goat herder, or God forbid, by wild animals.
"But if Ben was deliberately placed under rubble and earth then a new excavation is worth it.
"But why has it taken them 20 years though?"